Discover how simple it is to introduce our superfoods and snacks into your favourite meals.
We've selected some sweet and savoury feel-good recipes that we think you'll love!
Now its your turn to give them a try and share your creations with us. Don't forget to tag us @NaturesHeartUK.
Image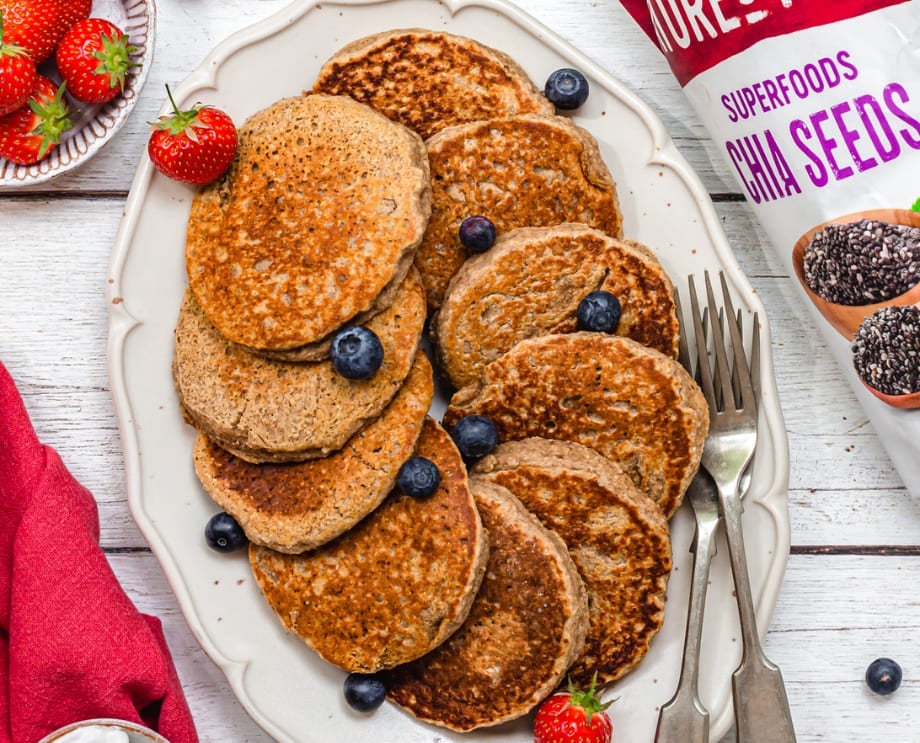 Chia Protein Pancakes
Feeds 4 | Preparation time 15 minutes
What to do:
Whisk together the oat flour, vanilla protein, ground chia seeds, baking powder, bicarbonate of soda and salt. Pour in the milk, maple syrup and apple cider vinegar and stir to a thick, smooth batter. Leave to rest for 5 minutes, where it will continue to thicken.
Heat a non-stick pan with a little oil and once hot, add ¼ cup of the batter to the pan and form a circle. Allow to cook for 2-3 minutes until golden underneath and some bubbles form on top then flip over the cook the second side. Transfer to a plate, cover to keep warm and repeat to make 15-16 pancakes.
Recipe by @nourishing.amy
Ingredients:
250g oat flour

50g vegan vanilla protein powder

2 tbsp ground Chia Seeds

1 1/2 tbsp baking powder

1/2 tsp bicarbonate of soda

480ml plant-based milk

60ml maple syrup

1 tbsp apple cider vinegar

a pinch of salt

oil, for frying
Chia seeds
Named after the Mayan word meaning 'strength', our Chia seeds are tiny but mighty. Add these versatile seeds to your every day meals for a tasty crunch and a sprinkle of plant-based protein.