Image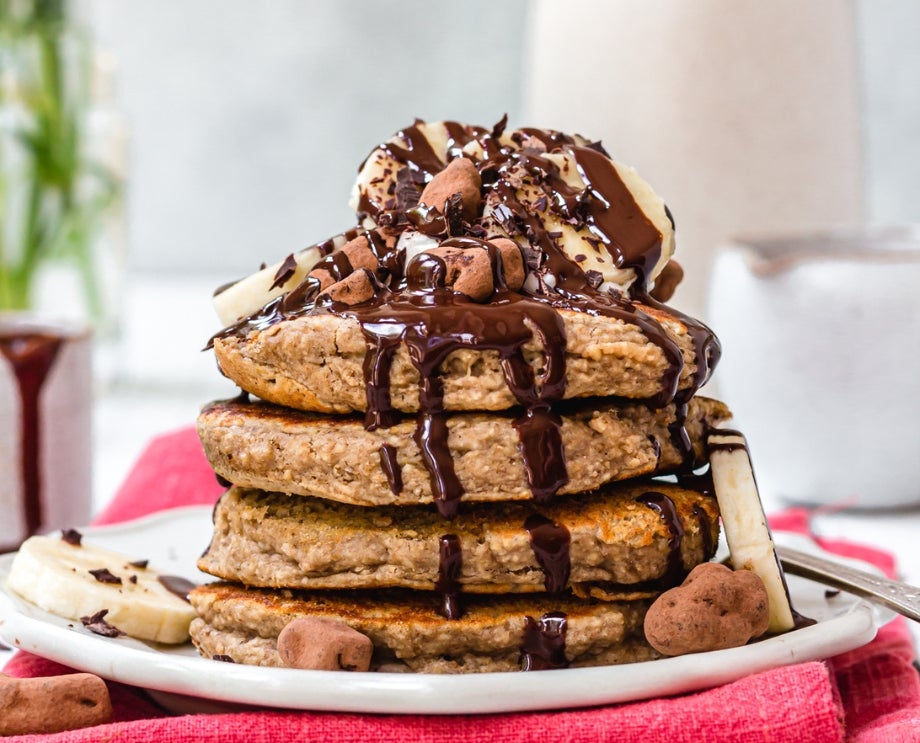 Chocolate Banana Pancakes
Feeds 4 | Preparation time 20 minutes
What to do:
Make the pancake batter: whisk together the oat flour, vanilla protein, ground chia seeds,
baking powder, bicarbonate of soda and salt. Pour in the milk, maple syrup and apple cider
vinegar and stir to a thick, smooth batter. Leave to rest for 5 minutes, where it will continue
to thicken.
Heat a non-stick pan with a little oil and once hot, add ¼ cup of the batter to the pan and form a circle. Allow to cook for 2-3 minutes until golden underneath and some bubbles form on top then flip over the cook the second side. Transfer to a plate, cover to keep warm and repeat to make 15-16 pancakes.
Slice the banana and melt the chocolate. Stack the pancakes and top with the yoghurt, banana, melted chocolate and dark chocolate bananas.
Recipe by @nourishing.amy
Ingredients:
250g oat flour

50g vegan vanilla protein powder

2 tbsp ground Chia Seeds

1 1/2 tbsp baking powder

1/2 tsp bicarbonate of soda

480ml plant-based milk

60ml maple syrup

1 tbsp apple cider vinegar

a pinch of salt

oil, for frying

3-4 tbsp thick dairy-free yoghurt

1 banana

3-4 tbsp melted chocolate

3-4 tbsp Dark Chocolate Bananas