Discover how simple it is to introduce our superfoods and snacks into your favourite meals.
We've selected some sweet and savoury feel-good recipes that we think you'll love!
Now its your turn to give them a try and share your creations with us. Don't forget to tag us @NaturesHeartUK.
Image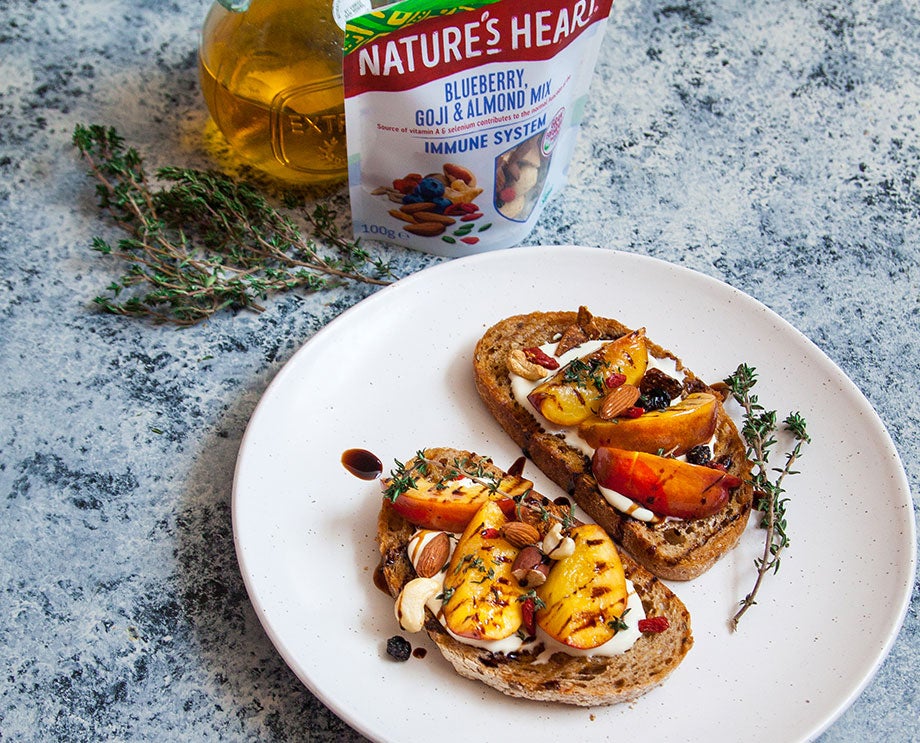 Grilled Peach tartine with blueberries, almond and goji
Feeds 1 | Preparation time 30 minutes
What to do:
Toast the slices of sourdough on a grill, brushed with some olive oil for extra flavour.
Toss the peaches in the remaining oil and grill until plump and char marks appear.
Spread a base of vegan yoghurt on each slice of toast, top with the grilled peach slices, a glug of thick balsamic, and a sprinkle of the immune mix and thyme leaves.
Ingredients:
1 loaf sourdough, sliced

4-5 peaches sliced

4 tbsp good quality olive oil, to brush

½ cup thick vegan yogurt 

Thick balsamic sauce, to drizzle

½ cup Nature's Heart blueberry, goji and almond immune mix

2 tbsp fresh thyme leaves, to garnish
Blueberry, Goji & Almond Mix
Pretty much the perfect snack, this delicious combo of blueberries, almonds and goji berries teamed with the crunch of sunflower and pumpkin seeds creates a natural source of vitamin A & selenium, making it a treat your immune system gets to enjoy too*.
And while we're talking about the good stuff, we think you'll love that with each pack, you'll be helping food banks across the UK fight hunger thanks to our Gram for Gram initiative and partnership with FareShare.
* Enjoy as part of a balanced diet and healthy lifestyle
Vegan
Source of vitamin A
Source of Selenium
Gluten Free