Image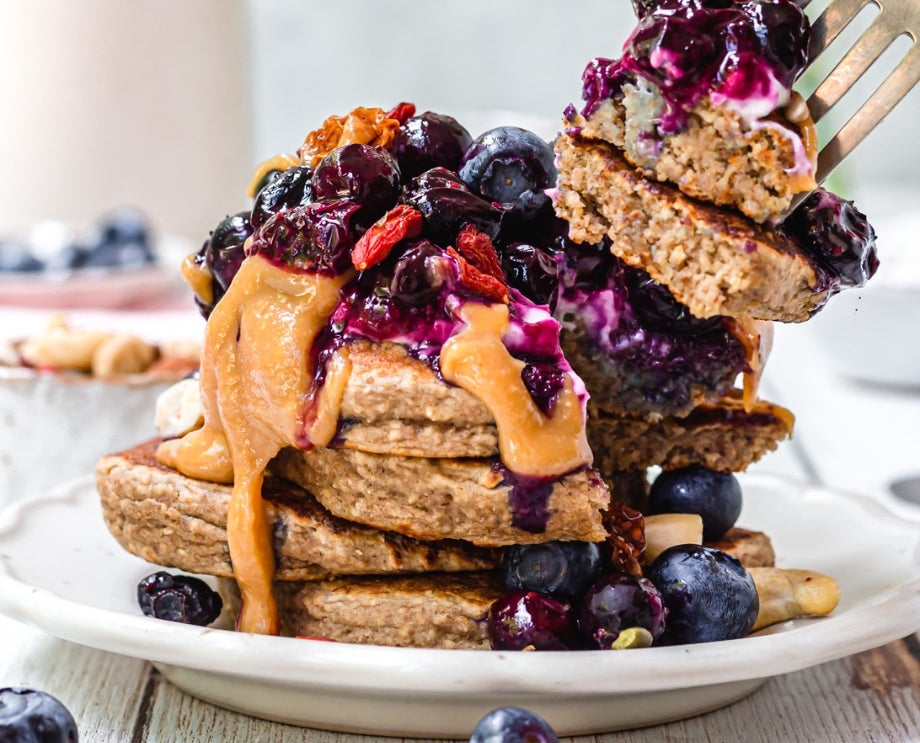 Healthy Blueberry Pancakes
Feeds 4 | Preparation time 20 minutes
What to do:
Make the pancake batter: whisk together the oat flour, vanilla protein, ground chia seeds,
baking powder, bicarbonate of soda and salt. Pour in the milk, maple syrup and apple cider
vinegar and stir to a thick, smooth batter. Leave to rest for 5 minutes, where it will continue
to thicken.
Heat a non-stick pan with a little oil and once hot, add ¼ cup of the batter to the pan and form a circle. Allow to cook for 2-3 minutes until golden underneath and some bubbles form on top then flip over the cook the second side. Transfer to a plate, cover to keep warm and repeat to make 15-16 pancakes.
Warm 150g of blueberries till soft and juicy (either in the microwave or on the hob). Stir together almond butter and syrup till smooth, warming the mix if needed to make the almond caramel sauce pourable. Stack the pancakes, top with the yoghurt, warmed blueberries, fresh blueberries, blueberry almond and goji mix and then the almond caramel sauce.
Once stacked and topped, enjoy the pancakes straight away, or keep basic pancakes for 1-2 days in the fridge in a sealed container or for up to 1 month in the freezer. Allow to de-frost and warm back up in a frying pan.
Recipe by @nourishing.amy
Ingredients:
250g oat flour

50g vegan vanilla protein powder

2 tbsp ground Chia Seeds

1 1/2 tbsp baking powder

1/2 tsp bicarbonate of soda

480ml plant-based milk

60ml maple syrup

1 tbsp apple cider vinegar

a pinch of salt

oil, for frying

200g blueberries, divided

4 tbsp runny almond butter

2 tbsp maple syrup

3-4 tbsp thick dairy-free yoghurt

3-4 tbsp Blueberry Goji and Almond Mix