Discover how simple it is to introduce our superfoods and snacks into your favourite meals.
We've selected some sweet and savoury feel-good recipes that we think you'll love!
Now its your turn to give them a try and share your creations with us. Don't forget to tag us @NaturesHeartUK.
Image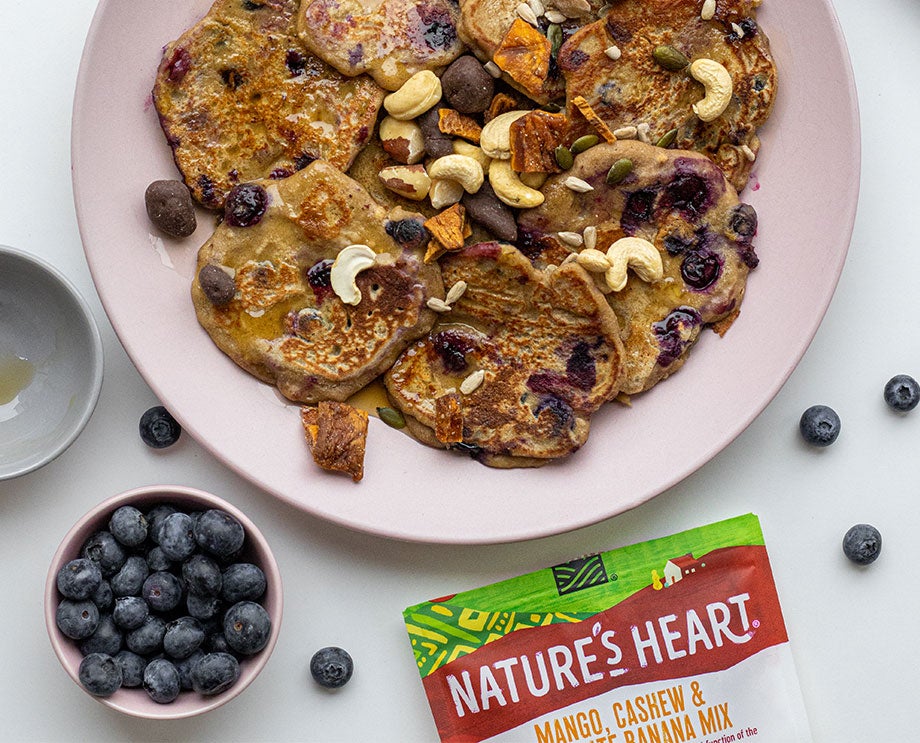 Easy Vegan Banana & blueberry pancakes
Feeds 2 | Preparation time 15 minutes
What to do:
In a bowl, using a spoon, mix 1 cup of oat flour with 2 ripe bananas and 1/3 cup almond milk to rich a thick but still runny batter consistency.
Spray the pan with oil, spoon the batter into the pan and spread it out a little with the back of the spoon.
Place your blueberries into the pancakes and cook the pancakes for 2 minutes.
Split the pancakes into two plates, drizzle with maple syrup and top with Mango, Cashew and Chocolate Banana Mix.
Enjoy!
Ingredients:
1 cup of oat flour

2 ripe bananas

1/3 cup of almond milk

1 cup of blueberries (or swap for chocolate chips)

50g of Mango, Cashew and Chocolate Banana mix
Mango, Cashew & Chocolate Banana Mix
Crammed with crunch, chew and juicy flavour, this tasty snack is plant-power at its best. While you're tucking into nature's finest with a moreish mix of creamy cashews, chunky brazil nuts & chocolate coated bananas, you're also nourishing your body with a hit of immune-friendly iron & selenium*.
And… even better, as you tuck in, you're helping food banks fight hunger across the UK by supporting our Gram for Gram initiative and partnership with FareShare.
* Enjoy as part of a balanced diet and healthy lifestyle
Vegan
Source of Iron
Source of selenium
Gluten Free