Discover how simple it is to introduce our superfoods and snacks into your favourite meals.
We've selected some sweet and savoury feel-good recipes that we think you'll love!
Now its your turn to give them a try and share your creations with us. Don't forget to tag us @NaturesHeartUK.
Image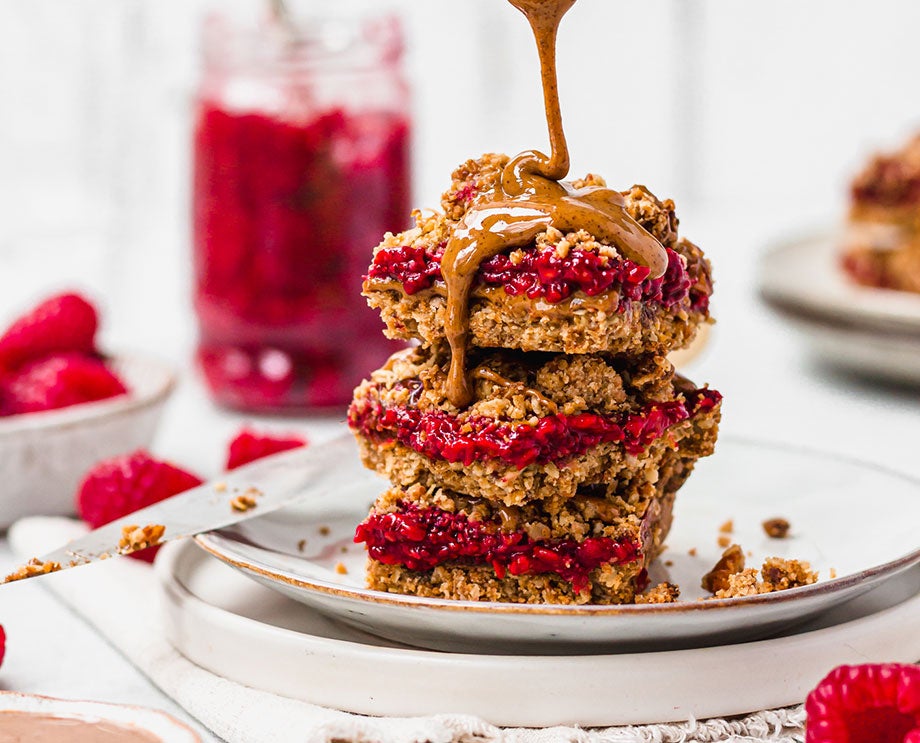 Almond Butter Goldenberry and Raspberry Crumble bars
Feeds 12 | Preparation time 45 minutes plus cooling
What to do:
First make the chia seed jam by adding the raspberries, goldenberries and 1 tbsp of water to a saucepan and heat until bubbling. Turn down the pan to a gentle simmer and cook for 10 minutes, with a lid on. Now stir in the chia seeds, remove from the heat and allow to cool. Store in a glass jar for up to 1 week.
Preheat the oven to 160Fan/180*C and line an 8-inch square tin with parchment paper.
Soak the medjool dates and goldenberries for the base/crumble in boiling water for 10 minutes. Drain and then add to a blender/food processor with the 100g almond butter and coconut oil and blend until jammy and no big lumps remain. Pour in the oats, oat flour, baking powder and salt and blend again to a sticky dough.
Pour ¾ of the oaty mix into the tin and press down firmly to form the base layer. Cook for 10 minutes.
Spread the 50g almond butter over the base, followed by the jam and then sprinkle over the remaining oaty crumble mix and bake for another 20-25 minutes until golden and crisp.
Allow to cool in the dish and one fully cool, slice into bars or squares. Drizzle with extra almond butter, if you like. Store in an airtight container for 3-5 days or in the fridge for up to 1 week or in the freezer for 1 month.
Ingredients:
Jam:

200g raspberries (fresh or frozen)
50g goldenberries
2 tbsp chia seeds
50g almond butter
¼ cup aquafaba

Base and Crumble:

40g medjool dates, pitted
25g goldenberries
100g almond butter
¼ cup coconut oil, softened
125g oats
100g oat flour
¼ tsp baking powder
A pinch of salt
Extra almond butter, to drizzle