Discover how simple it is to introduce our superfoods and snacks into your favourite meals.
We've selected some sweet and savoury feel-good recipes that we think you'll love!
Now its your turn to give them a try and share your creations with us. Don't forget to tag us @NaturesHeartUK.
Image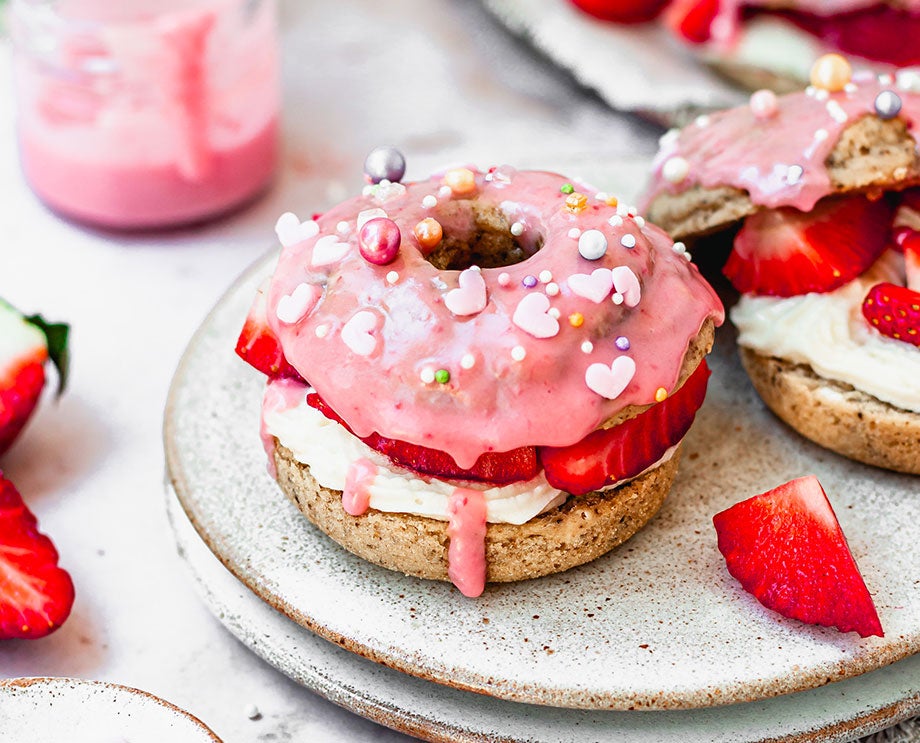 Strawberries and Cream Doughnut Sandwich
Feeds 7 | Preparation time 20 minutes plus cooling
What to do:
Preheat the oven to 160Fan/180*C and grease 8 donut holes (a silicone mould is easiest).
Whisk together the chia seeds and water and leave for 5 minutes to form a gel. Now whisk in the sugar, milk, sunflower oil and vanilla.
Pour in the flour, baking powder, bicarbonate of soda and salt and whisk to a thick batter. Pour into a piping bag and pipe into the donut moulds.
Bake for 10-11 minutes until risen and golden. Allow to cool fully and remove from the moulds.
Make the buttercream filing by beating the butter until light and fluffy and then gradually adding in the icing sugar, milk and vanilla and continue to mix until soft but stable enough to pipe.
Make the strawberry frosting by blitzing the berries until smooth, straining if needed and then adding 1 ½ tsp of the puree to the icing sugar and stir to a thick sticky mix.
Slice the donuts in half widthways, dip/spread the top half with the strawberry frosting. Pip the bottom half with the frosting and top with the strawberries. Sandwich back together and decorate with sprinkles.
Enjoy straight away or store in an airtight container in the fridge for 3 days.
Ingredients:
Buttercream:

75g vegan butter
225 icing sugar
1 ½ tbsp plant-based milk
½ tsp vanilla essence

Frosting:

100g icing sugar
50g strawberries
To decorate: sprinkles

Donuts:

1 tbsp chia seeds, ground
2 tbsp water
30g coconut sugar 
150ml plant-based milk
2 tbsp sunflower oil
1 tsp vanilla
140g plain or GF plain flour 
1 tsp baking powder
½ tsp bicarbonate of soda
Pinch of salt
8 strawberries, sliced