Image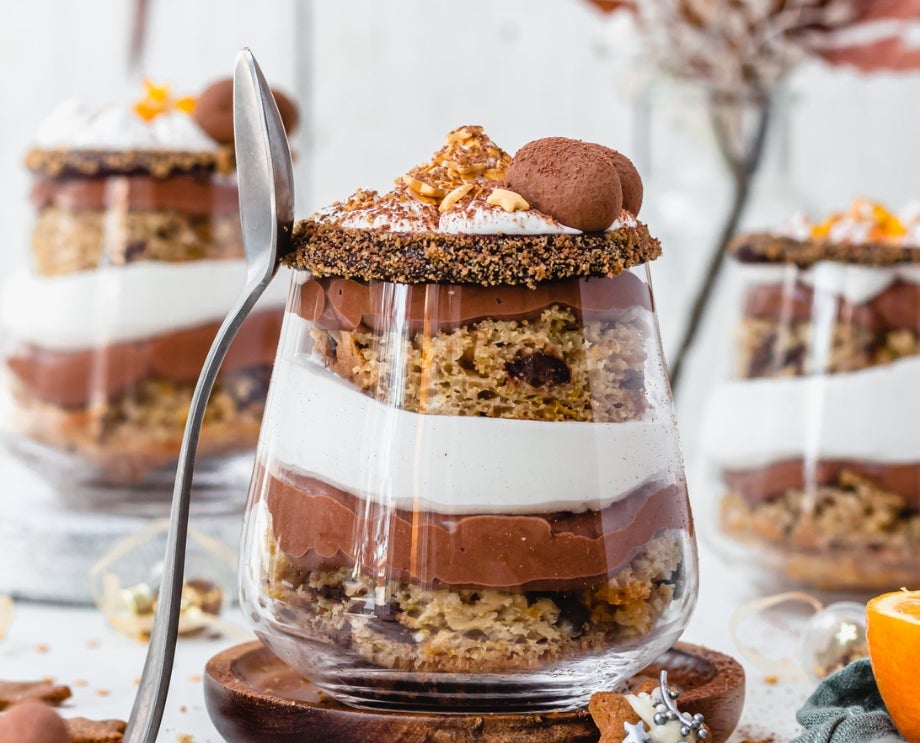 Chocolate Orange Tiramisu Pots
Feeds 6 | Preparation time 50 minutes
What to do:
For the sponge cake: preheat the oven to 160 Fan / 180c and line an 8-inch square tin with parchment paper. Whisk together the milk, apple cide vinegar, maple syrup, apple sauce, and yogurt until smooth. Sift the flour, protein powder, baking powder, and bicarbonate of soda. Add the salt and orange zest and whisk to a smooth, thick batter. Fold in the chocolate chips. Pour into the lined tin, smooth over the top and bake for 20 minutes, until golden brown and an inserted skewer comes out clean. Allow to cool for 20 minutes then lift out the tin to cool fully on a wire rack.
For the chocolate ganache: whisk together all the ingredients until really smooth and thick. Add more milk if needed to make it runnier.
For the layers: whip up the cream until fluffy.
To assemble: cut out 6 circles from the cake that are the same size as your glass and slice in half widthways so you have 12 thinner circles. Place one at the bottom on the glass (save the second for later). Fill any gaps with more cake. Brush with some orange juice. Pipe on some of the chocolate ganache, to make an even layer and do the same with the whipped cream. Now top with the second circle of cake and repeat with the orange juice and chocolate ganache. Pipe the top layer of whipped cream in mini peaks. If not serving straight away, store the jars in the fridge for 1 day, covered lightly.
To serve: remove the jars from the fridge and allow to rest for 10 minutes. Now dust with sprinkles, orange zest, some raw cacao powder and some dark chocolate goldenberries.
To store: enjoy straight away or store for 1-2 days in the fridge, covered lightly. 
Note: to make chocolate dipped glasses, melt some chocolate and pour into a shallow bowl. Crush some cookies very small and place in a second shallow bowl. Dip the rim of the glasses into the chocolate, allowing the excess to drip off and then into the cookie crumbs. Allow to set for 10 minutes.
Ingredients:
FOR THE SPONGE CAKE

180ml plant-based milk

1 tsp apple cider vinegar

60ml maple syrup 

75g applesauce

30g thick coconut yoghurt

175g plain or gluten-free plain flour

25g vegan vanilla protein powder

1 1/2 tsp baking powder

3/4 tsp bicarbonate of soda

a pinch of salt

zest of 1 orange

60g chocolate chips

FOR THE CHOCOLATE GANACHE

400g thick coconut yoghurt

80g vegan chocolate protein powder

60g raw cacao powder

120ml maple syrup

60ml plant-based milk

zest of 1/2 orange

FOR THE LAYERS

250ml dairy free whipping cream

100ml orange juice

12-18 Dark Chocolate Goldenberries

sprinkles

orange zest

cacao powder