Discover how simple it is to introduce our superfoods and snacks into your favourite meals.
We've selected some sweet and savoury feel-good recipes that we think you'll love!
Now its your turn to give them a try and share your creations with us. Don't forget to tag us @NaturesHeartUK.
Image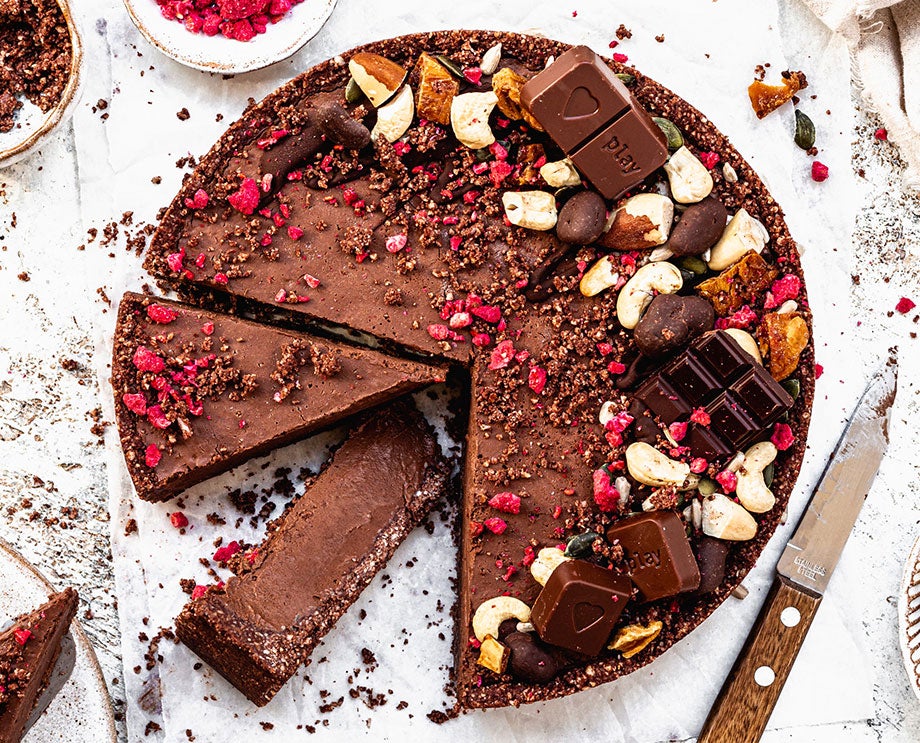 Easter Chocolate Cream Tart
Feeds 12 | Preparation time 25 minutes plus overnight chilling
What to do:
Lightly grease and line a loose-bottomed tart tin (9-inch).
Add the cashews, almonds, cacao powder and a pinch of salt to a blender and pulse to a crumbly mix. Now add in the coconut oil and blend to a sticky mix that holds together when pressed between your fingers.
Pour into the tin, saving 40g for the topping and press down firmly up the sides, too, to make an even solid base (this is very important). Place in the fridge while you make the filling.
Soak the dates in boiling water for 10 minutes to soften them. Melt the chocolate and allow to cool slightly.
Drain the dates and add to a blender or food processor with the milk and process until smooth. Now pour in the melted chocolate and salt and blend until thick and creamy.
Pour into the tart base and smooth over the top. Tap on the surface a few times to remove some air bubbles. Allow to set in the fridge or freezer overnight (at least 8 hours).
Once set, carefully remove from the tin and allow to reach room temperature. Decorate with the Mango, Cashew and Chocolate Banana Mix and extra toppings as well as sprinkling over the extra base mix.
Store in the fridge for up to 1 week or in the freezer for up to 1 month. If storing in the freezer, allow to reach fridge temperature before serving.
Ingredients:
Tart base:

150g cashew nuts
150g almonds
40g cacao powder
90g coconut oil
A pinch of salt

Chocolate Cream Filling: 

90g Medjool dates (pitted weight)
360ml plant-based milk
170g dark chocolate
A pinch of salt

Topping:

50g Mango Cashew and Chocolate Banana Mix
Chocolate, melted and chopped
Freeze dried raspberries