Discover how simple it is to introduce our superfoods and snacks into your favourite meals.
We've selected some sweet and savoury feel-good recipes that we think you'll love!
Now its your turn to give them a try and share your creations with us. Don't forget to tag us @NaturesHeartUK.
Image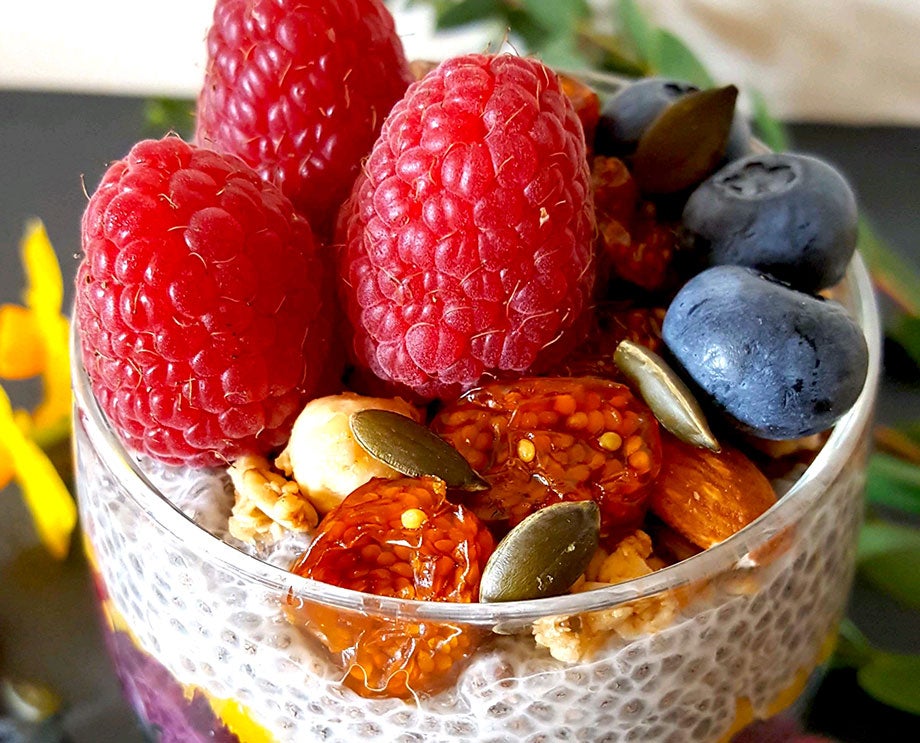 Protein Chia Parfait
Feeds 2 | Preparation time 25-30 minutes
What to do:
In a bowl, mix together the chia seeds, milk, yoghurt, protein powder (if using), vanilla extract and sweetener. Make sure that no clumps of chia seeds remain. Set aside in the refrigerator for 2 hrs plus; I often leave mine overnight.
When you are ready to assemble your parfaits, prepare your mango and apple by dicing it into small cubes.
With the back of a fork or a blender, mash or blend up a large handful of blueberries and then stir in about 6 tablespoons of the soaked chia pudding until the purple colour is evenly distributed.
Now it's time to layer up with layers and toppings of choice! I alternate with a layer of chia pudding, diced green apple cubes, granola, blueberry chia, mango cubes and finish off with crunchy granola, fresh berries, dried goldenberries and some pumpkin seeds. Enjoy!
Ingredients:
50g chia seeds

380ml milk of choice (400ml if you like your chia pudding more runny)

2 tbsp. yoghurt (plant based if preferred)

2 tbsp. protein powder of choice (I love pea and soya bean protein varieties). If not using. Just use 50ml less milk

½ tsp. vanilla extract

2-3 tsp. maple syrup or sweetener of choice, to taste

For the layers:

Mango, cut into little cubes (approx. ¼ a mango or defrosted mango)
For the blueberry layer: a large handful of blueberries, to be mixed up with some of the chia pudding mixture)
1 small apple, cut into little cubes
6 tablespoons of granola (this can be shop-bought or home-made)

To decorate:

Fresh berries (I love fresh raspberries and blueberries), dried goldenberries and pumpkin seeds.