Discover how simple it is to introduce our superfoods and snacks into your favourite meals.
We've selected some sweet and savoury feel-good recipes that we think you'll love!
Now its your turn to give them a try and share your creations with us. Don't forget to tag us @NaturesHeartUK.
Image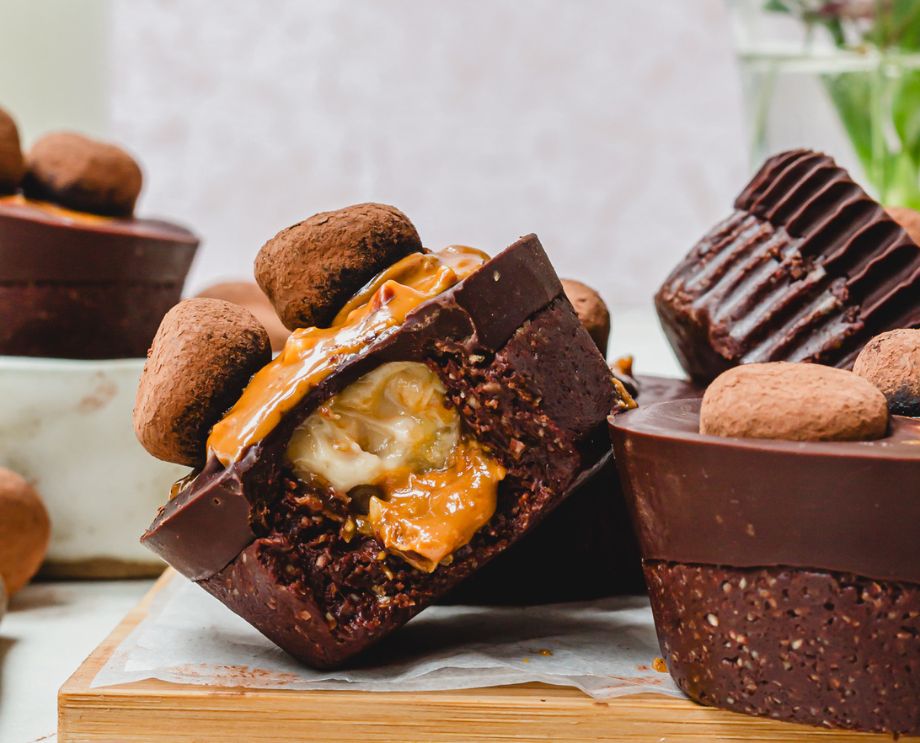 Chocolate Banana Peanut Butter FroYo Bites
Feeds 10 | Preparation time 15 minutes plus chilling
What to do:
1. Use a silicone muffin tray or line a regular tray with muffin/cupcake cases.
2. For the brownie base: stir together the ingredients to a sticky mix. Divide the mix into 10 equal pieces, roll into balls and place one ball in each case. Press down (using a spoon) to make a cup. Place in the fridge while you make the filling.
2. For the FroYo filling: whisk together the yoghurt, smooth peanut butter and maple syrup until smooth. You can place into a piping bag, if you like.
3. To fill the cups: remove the trays from the fridge and place in some of the crunchy peanut butter. Top with a slice of banana and spoon or pipe over the froyo filling. Place in the freezer for 30-60 minutes, until firm to touch.
4. For the topping: melt together the dark chocolate and coconut oil either in the microwave or over a double boiler (aka bain-marie).
5. To finish: remove the trays from the freezer and pour over the melted chocolate. Spoon on some more peanut butter and swirl through. Top each cup with 2 dark chocolate bananas and return to the fridge or freezer for 10-20 minutes, until set.
6. Remove from the cases and enjoy from the fridge or freezer. Keep in a sealed container in the fridge for 1 week or the freezer for 1 month.
Recipe by: @nourishing.amy
 
Ingredients:
For the Brownie Base

100g oat flour (oats blended into a flour)

50g cacao powder

75g smooth peanut butter

75ml maple syrup

a pinch of salt

For the FroYo and Filling

5 heaped tsp crunchy peanut butter

1 banana, sliced

80g thick coconut yoghurt

50g smooth peanut butter

20ml maple syrup

For Topping:

180g dark chocolate, chopped small

1 tbsp coconut oil

5 tsp smooth peanut butter

20 dark chocolate bananas
Dark Chocolate Bananas
Enjoy the mouthwatering taste of sweet, chewy dried banana covered in rich dark chocolate and lightly dusted with cacao.
Vegan
High in fibre
Source of potassium
Gluten free
Made with natural ingredients and 64% dark vegan chocolate.