Discover how simple it is to introduce our superfoods and snacks into your favourite meals.
We've selected some sweet and savoury feel-good recipes that we think you'll love!
Now its your turn to give them a try and share your creations with us. Don't forget to tag us @NaturesHeartUK.
Image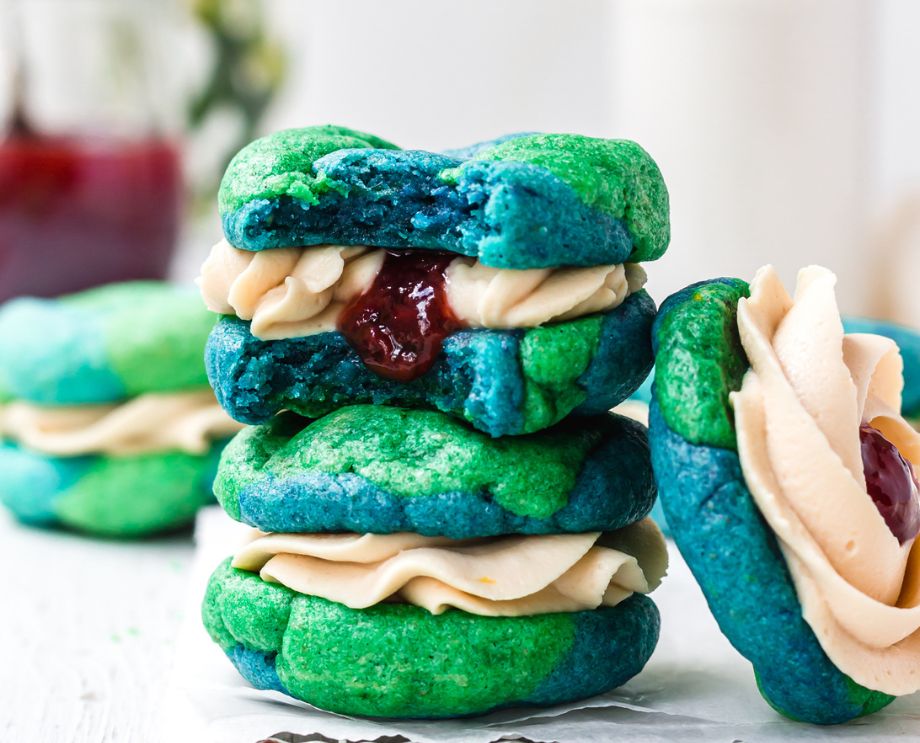 Earth Day Cookies
Feeds 8 | Preparation time 20 minutes
What to do:
1. Preheat the oven to 160Fan/180*C and line 2 large baking sheets with parchment paper.
2. Grind the chia seeds to a fine flour texture and stir together with the water to form a gel (this will thicken quickly).
3. Add the butter and sugar to a bowl and beat with a handheld electric mixer till soft and light. Now add in the chia gel, vanilla and lemon zest and beat again until incorporated.
4. Add in the flour, bicarbonate of soda and salt and beat to a thick and smooth cookie dough (it is quite thick).
5. Divide the mix in two and to one dough, add the blue food gel or blue spirulina and mix in to reach your desired colour (they do fade as they bake). Repeat to make the green cookie dough.
6. Take small amounts of blue and green cookie dough and roll them together. I portion each dough into 5g (about ½ - 1 tsp) and take 3 blue pieces and 2 green pieces and roll them together into one ball of dough. Flatten the cookies into disks onto the baking tray and repeat to make all 16-18 cookies, alternating between 3 blue and 2 green and vice versa.
7. Bake the cookies for 7-8 minutes, turning the trays round halfway through. 
8. Remove from the oven, tap the tray on the surface twice and allow to cool for 10 minutes before touching the cookies. Then allow to cool fully (or enjoy warm).
9. If you are making sandwich cookies, now make the filling: beat together the yoghurt, protein and lemon zest until thick and creamy. Pipe the frosting onto half the cookies and fill the middle with the jam. Sandwich together with a second cookie.
10. Store un-filled cookies for 3-5 days at room temperature in a sealed container (they will soften over time) and store filled cookie sandwiches for 3-5 days in the fridge in a sealed container.
*make sure the food gel is vegan. Food gel results in a much stronger colour than using naturally coloured powders which fade more as they bake. Food gel is recommended over food colouring as gel is much thicker and more concentrated meaning you need to use less. Too much food colouring can cause the mix to split.
Recipe by: @nourishing.amy
 
Ingredients:
For the Cookies

1 tbsp chia seeds

2 1/2 tbsp water

110g vegan butter, slightly softened

110g caster or coconut sugar

1tsp vanilla essence

1/2 lemon, zested

200g plain flour

1/2 tsp bicarbonate of soda

a pinch of salt

a few drops of blue food gel

a few drops of green food gel

For the Filling:

150g thick dairy-free yoghurt

20g vegan vanilla protein powder

1/2 lemon, zested

3 tbsp strawberry jam
Chia seeds
Named after the Mayan word meaning 'strength', our Chia seeds are tiny but mighty. Add these versatile seeds to your every day meals for a tasty crunch and a sprinkle of plant-based protein.