Discover how simple it is to introduce our superfoods and snacks into your favourite meals.
We've selected some sweet and savoury feel-good recipes that we think you'll love!
Now its your turn to give them a try and share your creations with us. Don't forget to tag us @NaturesHeartUK.
Image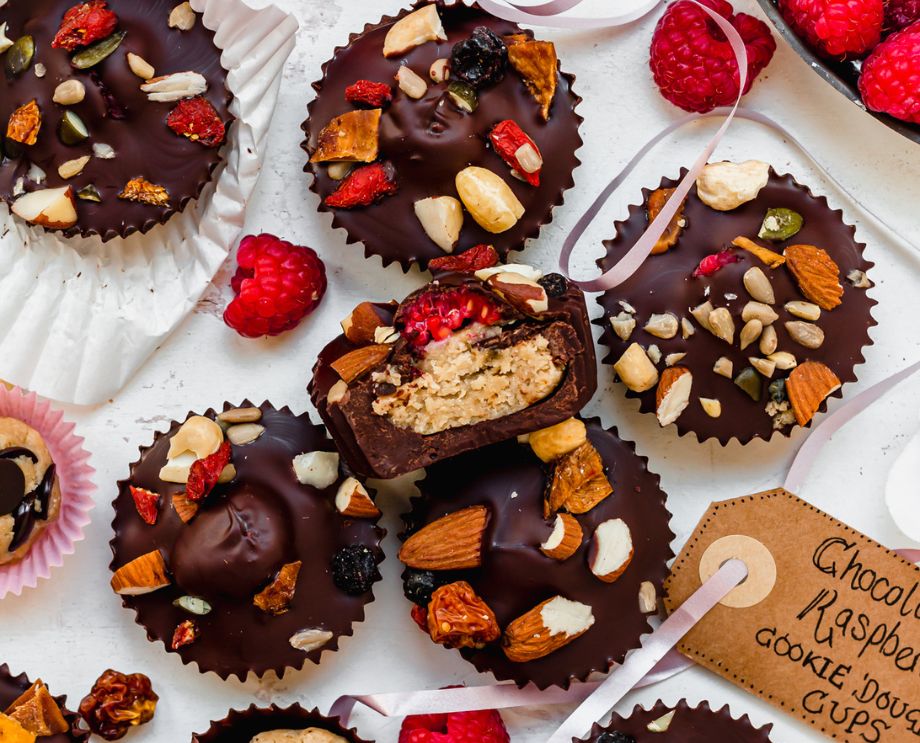 Chocolate Raspberry Cookie Dough Cups
Feeds 12 | Preparation time 40 minutes
What to do:
1. For the chocolate: chop the chocolate small and divide into two bowls, one of 140g and one of 180g. Add half of the coconut oil to each bowl and melt separately (the smaller amount is for the bases and the larger amount is for the tops).
2. For the cups: line a 12-hole muffin or cupcake tin with cases and use the smaller amount of chocolate to coat the bottom and sides of the cases with chocolate. Transfer to the fridge to set for 10 minutes.
3. Meanwhile, make the cookie dough: stir together the tahini, syrup, yoghurt and oil till smooth. Now add in the oat flour, protein powder and salt. Stir to a sticky cookie dough and fold in the chocolate chips. Divide the mix into 12 pieces, roll into balls, and flatten slightly.
4. Remove the cases from the fridge and place a cookie dough ball into each chocolate shell. Press on ½ a raspberry and cover with the rest of the melted chocolate. Decorate with the chopped up Blueberry Goji and Almond Immune Mix.
5. Set in the fridge for 20 minutes, or until set firm. Enjoy straight away or keep in the fridge for 1 week. You can seal the cups and freeze for 1 month, and then allow to defrost before enjoying.
6. As a gift, remove the cups from the cases and place in a tissue paper-lined box and wrap with ribbon!
Recipe by: @nourishing.amy
 
Ingredients:
For the Cups

320g dark chocolate, divided

1 1/2 tbsp coconut oil

6 raspberries, halved

6 tbsp Blueberry Goji and Almond Immune Mix, chopped

For the Cookie Dough

60g smooth, runny tahini or almond butter

2 tbsp (30ml) maple syrup

1 tbsp coconut yoghurt

1 tbsp softened coconut oil

75g oat flour (oats blended into a flour)

20g vegan vanilla protein powder

50g dark chocolate chips

a pinch of salt
Blueberry, Goji & Almond Mix
Pretty much the perfect snack, this delicious combo of blueberries, almonds and goji berries teamed with the crunch of sunflower and pumpkin seeds creates a natural source of vitamin A & selenium, making it a treat your immune system gets to enjoy too*.
And while we're talking about the good stuff, we think you'll love that with each pack, you'll be helping food banks across the UK fight hunger thanks to our Gram for Gram initiative and partnership with FareShare.
* Enjoy as part of a balanced diet and healthy lifestyle
Vegan
Source of vitamin A
Source of Selenium
Gluten Free