Discover how simple it is to introduce our superfoods and snacks into your favourite meals.
We've selected some sweet and savoury feel-good recipes that we think you'll love!
Now its your turn to give them a try and share your creations with us. Don't forget to tag us @NaturesHeartUK.
Image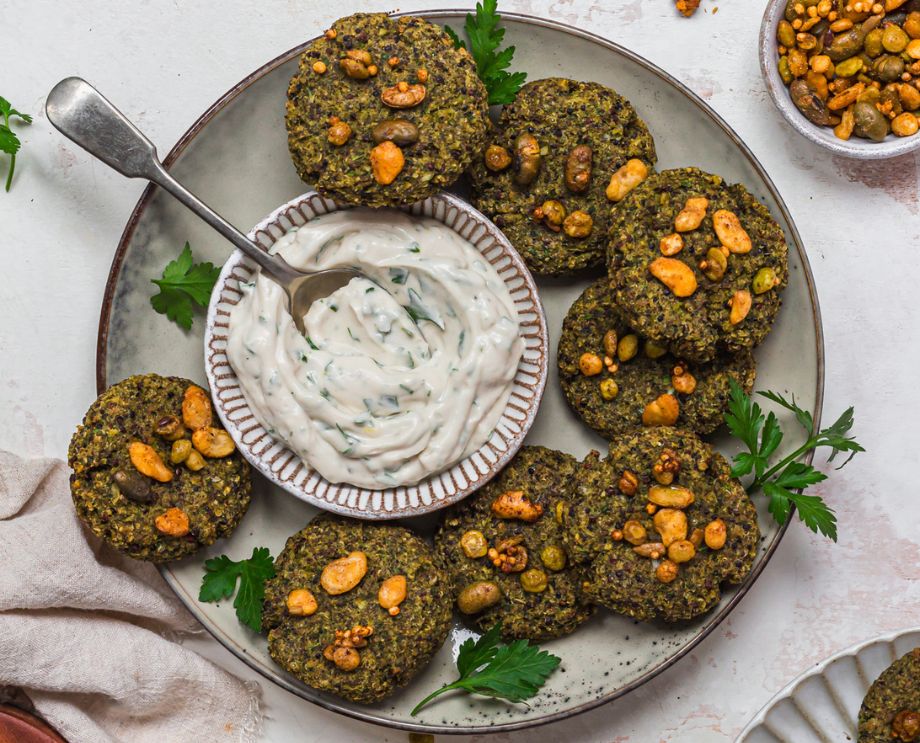 BBQ Broccoli Bites
Feeds 32 | Preparation time 58 minutes
What to do:
1. Preheat the oven to 170Fan/190ºC.
2. For the roasted broccoli: chop up the broccoli into small pieces and add to a roasting tray with the garlic, paprika, cumin, olive oil and some salt and pepper. Toss well and roast for 20 minutes.
3. Meanwhile, cook the quinoa according to packet instructions, you will have 200g of cooked quinoa. Stir together the chia seeds and water to form a gel and leave to one side.
4. For the BBQ Crunch: add to a blender and process to a fine meal.>
5. Remove the broccoli from the oven and reduce the temperature to 160Fan/180ºC and line two baking trays with parchment paper.
6. For the bites: add the cooked quinoa, chickpea flour, chia seed gel, ground up BBQ Crunch, spring onions, nutritional yeast, spinach and roasted broccoli to a food processor and pulse/blend to a sticky mix, although stop before it gets totally smooth. Some small chunks are OK.
7. To shape: spoon the mixture into 12 bites, shape into balls and flatten onto the trays into rounds. Top with some extra BBQ Crunch and spray or brush with olive oil.
8. To bake: place in the middle of the oven for 10 minutes, turn the trays around and bake for a further 8 minutes, until crisping at the edges. Allow to cool for 10 minutes before carefully removing from the trays – use a palette knife if needed.
9. Make the yoghurt tahini: whisk together all the ingredients until smooth.
10. Serve the broccoli bites with the yoghurt tahini dip while warm or wait until they are cold. Keep leftovers in sealed containers in the fridge for 2-3 days and the bites can be frozen for 1 month, allow to defrost before eating.
Recipe by: @nourishing.amy
 
Ingredients:
For the Bites:

1/2 broccoli head, stalks and florets (250g)

2 garlic cloves, peeled

1/2 tsp hot smoked paprika

1/2 tsp ground cumin

1 tbsp olive oil, plus extra to roast

salt and pepper

80g quinoa

1 tbsp chia seeds with 3 tbsp water

1 50g bag BBQ Crunch

45g chickpea flour

2 spring onions, roughly chopped

2 tbsp nutritional yeast

50g baby spinach

extra BBQ Crunch

For the Yoghurt Tahini Dip:

120g thick dairy-free yoghurt e.g. coconut

30g runny, smooth tahini

1/2 lemon, juiced (1 tbsp)

1 garlic clove, crushed

2 tbsp chopped herbs e.g. coriander, mint, basil

salt and pepper
Smoky BBQ Crunch
Enjoy all the nutrition of crunchy edamame, peas, broad beans and seeds with an irresistible bbq flavour.
One portion (50g.) gives you: 
1 of your 5 a day
12g of Protein
7g of Fibre
Vegan
No artificial colours or flavours