Discover how simple it is to introduce our superfoods and snacks into your favourite meals.
We've selected some sweet and savoury feel-good recipes that we think you'll love!
Now its your turn to give them a try and share your creations with us. Don't forget to tag us @NaturesHeartUK.
Image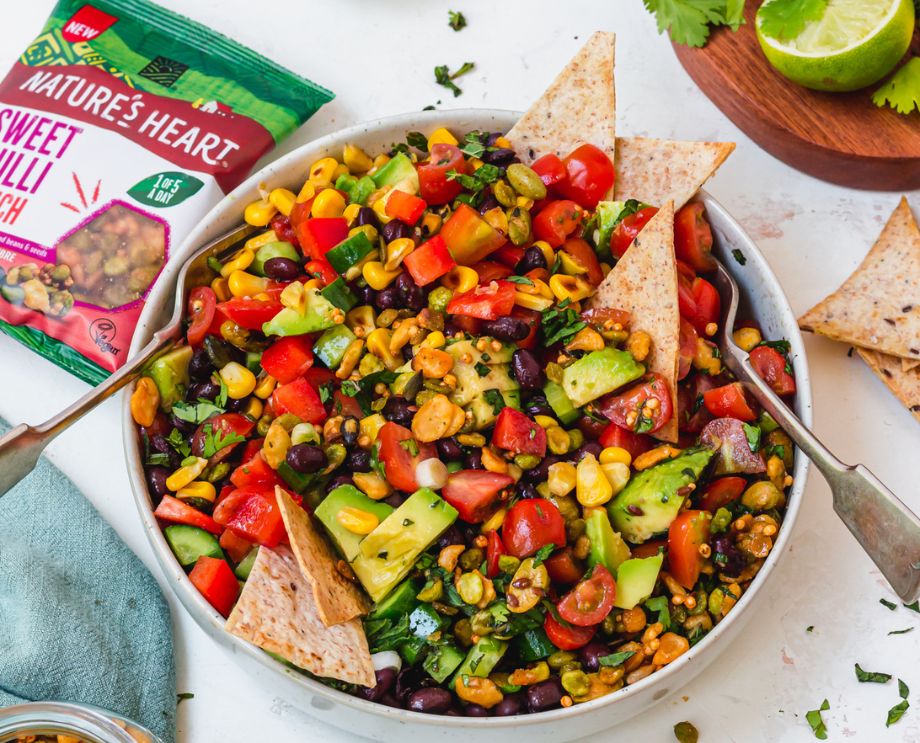 Sweet Chilli Salsa
Feeds 4 | Preparation time 15 minutes
What to do:
1. For the corn: chop the con off the cob or drain a tin of sweetcorn and pat dry. Heat 1 tsp olive oil in a large frying pan and add the corn with a pinch of salt. Fry for 5-10 minutes till charring.
2. For the tortilla chips: preheat the oven to 160Fan/180ºC. Chop the tortillas into triangles and rub with 1 tsp olive oil, some salt and pepper. Bake for 10 minutes on a lined tray in an even layer, flipping over halfway through cooking time so they cook evenly. Allow to cool for the crispiest tortilla chips.
3. For the salsa: prepare, slice and chop all the components.
4. For the dressing: stir together all the ingredients.
5. To serve: to a large mixing bowl add the black beans, avocado, pepper, tomatoes, cucumber, spring onion, herbs and charred corn. Pour over most of the Sweet Chilli Crunch and pour over the dressing. Toss well and sprinkle over the rest of the Crunch. Serve with the tortilla chips straight away.
6. Enjoy as it is, or keep in the fridge in a sealed container for 2-3 days (the crunch will soften over time) and keep the tortilla chips separate in a container at room temperature for 1-2 days.
Recipe by: @nourishing.amy
 
Ingredients:
For the Salsa

1 ear of corn (or 160g corn, drained weight)

2 large wholemeal tortillas

2 tsp olive oil

1 tin black beans

1 avocado, small cubes

1 bell pepper, small cubes

160g cherry or plum tomatoes, in 1/4

100g cucumber, chopped small

2 spring onions, sliced

2 tbsp freshly chopped herbs

2 packs Sweet Chilli Crunch

For the Dressing

1 tbsp olive oil

1 lime, juiced

1 tsp maple syrup

1 tsp apple cider vinegar

1/4 tsp ground cumin

salt and pepper
Sweet Chilli Crunch
Enjoy all the nutrition of crunchy edamame, peas, broad beans and seeds with an irresistible sweet chilli flavour.
One portion (50g.) gives you: 
1 of your 5 a day
12g of Protein
9g of Fibre
Vegan
No artificial colours or flavours