Discover how simple it is to introduce our superfoods and snacks into your favourite meals.
We've selected some sweet and savoury feel-good recipes that we think you'll love!
Now its your turn to give them a try and share your creations with us. Don't forget to tag us @NaturesHeartUK.
Image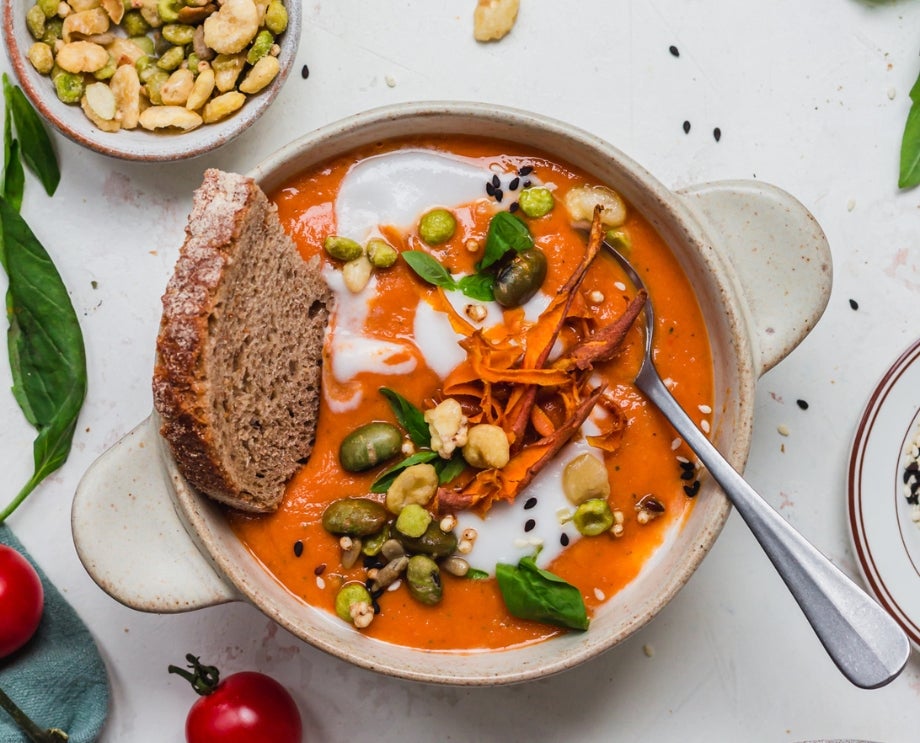 Hidden Veg Creamy Tomato Soup
Feeds 4 | Preparation time 55 minutes
What to do:
1. Preheat the oven to 160Fan/180C and have a large roasting dish to hand.
2. Prepare all of the vegetables: chop the larger tomatoes in half, chop the pepper, courgette and onion into large chunks. Peel the sweet potato and carrot (save the peels) and cube into medium-sized pieces. Trim the top off the garlic bulb, keeping the cloves together.
3. Add all of the vegetables to the roasting tray, apart from the garlic. Toss with the dried basil and oregano and drizzle over 2 tbsp of oil. Season with salt and pepper and toss well. Rub the top of the garlic with the remaining 1 tbsp oil and add a good pinch of salt then wrap loosely in cling film. Place in between the vegetables.
4. Roast the vegetables for 45 minutes, until tender and starting to deepen in colour. Meanwhile, toss the vegetable peels with some extra oil, salt and pepper and roast on a lined tray for 10 minutes, till crispy.
5. Before making the soup: allow the vegetables to cool for 10 minutes first. Remove the garlic from the foil and squeeze out the cloves, using about 6 for the soup.
6. To make the soup: add all of the vegetables to a blender with the garlic cloves, beans, coconut yoghurt, tomato puree and vegetable stock (you may need to work in batches). Blend till really smooth and creamy, adding more stock as desired.
7. To serve the soup: warm back up if needed. Ladle into 4 bowls and top with some coconut yoghurt or plant-based cream, some fresh basil and sprinkle over the Salt and Vinegar Crunch. Serve with your favourite bread.
8. To store: allow the soup to cool then keep in a sealed container in the fridge for 2-3 days or in the freezer for up to 1 month, and allow to defrost and warm back up.
Recipe by: @nourishing.amy
 
Ingredients:
For the Soup

360g fresh tomatoes

1 large red pepper

1 courgette

1 red onion

1 medium sweet potato

1 medium carrot

1 garlic bulb

1 tsp dried oregano

1 tsp dried basil

3 tbsp olive oil

salt and pepper, to taste

1 tin cannellini beans

120g thick coconut yoghurt or cream

3 tbsp tomato puree

480-600ml vegetable stock

To Serve:

60g Salt and Vinegar Crunch

3 tbsp coconut yoghurt, or cream

fresh basil leaves

fresh bread
Salt & Vinegar Crunch
Enjoy all the nutrition of crunchy edamame, peas, broad beans and seeds with an irresistible salt & vinegar flavour.
One portion (50g.) gives you: 
1 of your 5 a day
12g of Protein
7g of Fibre
Vegan
No artificial colours or flavours