Discover how simple it is to introduce our superfoods and snacks into your favourite meals.
We've selected some sweet and savoury feel-good recipes that we think you'll love!
Now its your turn to give them a try and share your creations with us. Don't forget to tag us @NaturesHeartUK.
Image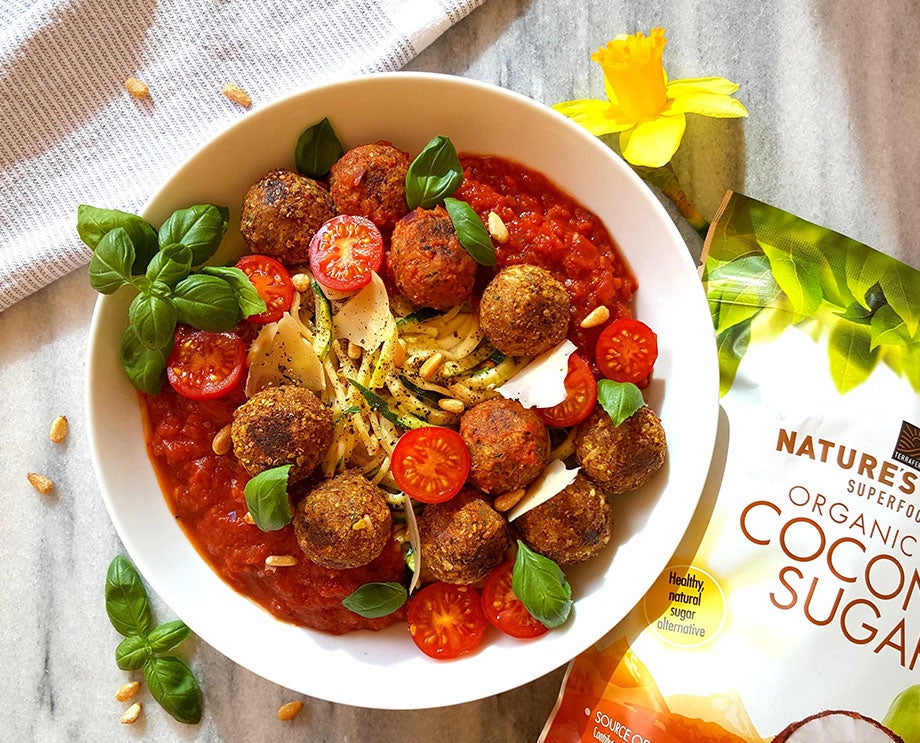 Veggie meatballs (beanballs)
Feeds 3 | Preparation time 30 minutes
What to do:
Preheat the oven to 170°C and line and grease a large baking sheet.
Make the chia egg using 1 tbsp. chia seeds mixed with 3 tbsp. water and leave to set for 10 mins.
In a blender or food processor, add all of the meatball ingredients, except the ground flaxseed and mix to form a meatball paste.
Using a tablespoon or ice cream scoop, scoop up even ball sized amounts of the bean mix and roll into balls using your hands.
Pour the ground flaxseed onto a plate.
Roll each meatball in the ground flaxseed for a light flaxseed coating. Set the meatballs aside on a plate ready for cooking.
On a medium-heat, using 1 tbsp. olive oil, pan-fry the meatballs to brown them and get them a little crispy on each side. This takes about 6-7 mins.
Then place the meatballs on the baking sheet and bake the meatballs for 20-25 mins, until the balls are golden in colour. 
While the meatballs are baking, make the tomato sauce.
Add olive oil to a medium-sized pot on a medium heat. Sauté the minced garlic and red onion for a few minutes before adding the chopped tomatoes, tomato puree, herbs, soya sauce tamari, coconut sugar and sea salt. Bring to the boil and then simmer on a lower heat until the sauce thickens to a rich tomato sauce. This takes about 12-15 mins.
Season the sauce with more salt if required and black pepper.
If serving these meatballs with pasta, cook the pasta as per manufacturer's instructions.
Divide up the pasta into bowls. Portion out the meatballs and spoon over the tomato sauce. Garnish with fresh basil, pine nut, some baby tomato halves and Parmesan shavings.  If serving in subs, I like to roll each meatball in a little of the tomato sauce. Enjoy!
Ingredients:
For the meatballs:

1 chia egg. (1 tbsp. chia seeds mixed with 3 tbsp. water and left to set for 10 mins)
1 x 400g can of black beans, drained (or cannellini beans)
200g cooked and cooled brown rice (quinoa or barley also works!)
1 red onion, finely chopped
2 plump cloves of garlic, minced
30g grated vegan parmesan (nutritional yeast also works if you have run out)
3 tbsp. chopped fresh basil
2 tbsp. Worcestershire sauce (vegan if required) or 1.5 tbsp. soy sauce or tamari
1 tsp. dried oregano
½ tsp. chilli flakes or sweet or smoked paprika
2 tbsp. tomato puree
50g ground flaxseed, to roll the meatballs in (you could also use breadcrumbs)

For the tomato sauce:

tbsp. olive oil
2 plump cloves of garlic, minced
small red onion, finely chopped
2 x 400g cans of chopped tomatoes
2 tbsp. tomato puree
2 tsp. dried oregano
2 tsp. soya sauce or tamari
tsp. coconut sugar
1/2 tsp. sea salt
Black pepper, to taste
250g pasta of choice

To garnish: fresh basil, pine nuts, baby cherry tomatoes and Parmesan shavings