Image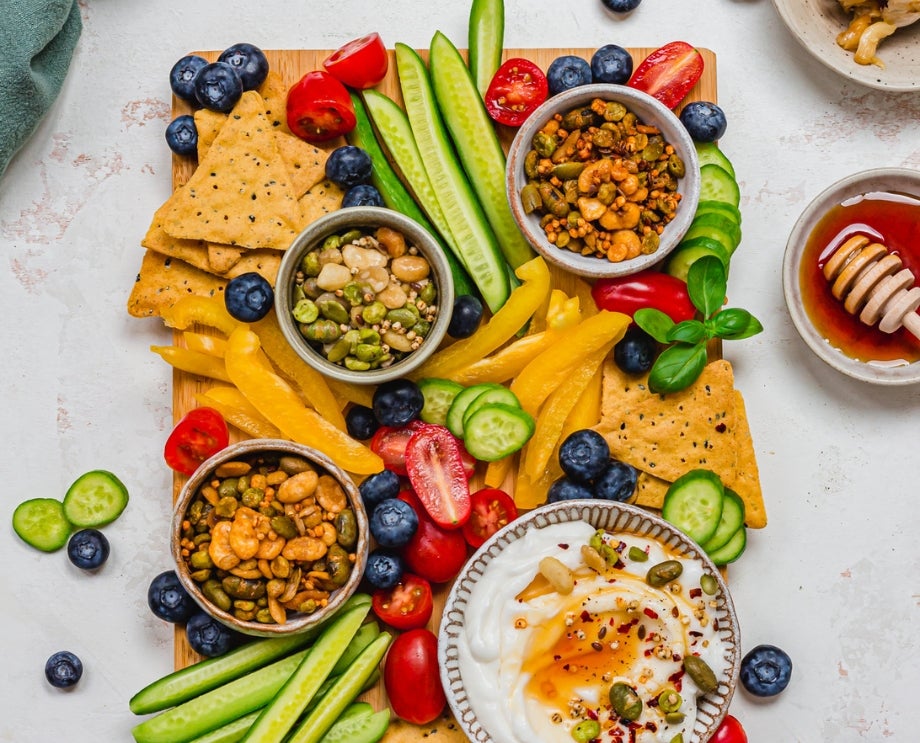 Garlic Whipped Feta Sharing Board
Feeds 4 | Preparation time 40 minutes
What to do:
1. Preheat the oven or air-fryer to 180*C. Peel the crispy outer layer from the garlic but leave the majority of the peel intact. Use a sharp knife to slice off the top of the garlic bulb, exposing just the top of the garlic cloves. Place in a piece of tin foil, rub with olive oil and sprinkle with salt, and wrap up the foil around the clove. Place in the oven or air-fryer for 30 minutes, or until soft.
2. Allow to cool for 5 minutes until cool enough to handle. Remove the foil and squeeze out the cloves.
3. To a blender or food processor, crumble up the feta and add in the cream cheese, 3 garlic cloves, lemon juice, 1 tbsp of olive oil, some salt and pepper. Blend till really smooth and creamy.
4. Place in a bowl and drizzle over the vegan honey and chilli flakes. Add some Sea Salt and Pepper Crunch on top with some fresh basil and serve with bowls of Crunch, cucumber sticks, yellow pepper sticks, cherry tomatoes, and any other sharing foods.
5. Keep the Garlic Whipped Feta in a sealed container in the fridge for 2-3 days.
Recipe by: @nourishing.amy
 
Ingredients:
For the Garlic Whipped Feta

1 garlic bulb

200g vegan feta cheese

100g vegan cream cheese

3 tbsp lemon juice

olive oil

salt and pepper

1 tbsp vegan honey

chilli flakes, optional 

fresh basil 

For the Sharing Board:

1 bag Sour Cream and Chive Crunch

1 bag Chilli and Lemon Crunch

1 bag Sea Salt and Pepper Crunch

Crackers

Tortilla Chips

Cucumber

Peppers

Tomatoes

Blueberries
Sour Cream & Chive Flavoured Crunch ,Chilli & Lemon Crunch,Sea Salt & Pepper Crunch