Discover how simple it is to introduce our superfoods and snacks into your favourite meals.
We've selected some sweet and savoury feel-good recipes that we think you'll love!
Now its your turn to give them a try and share your creations with us. Don't forget to tag us @NaturesHeartUK.
Image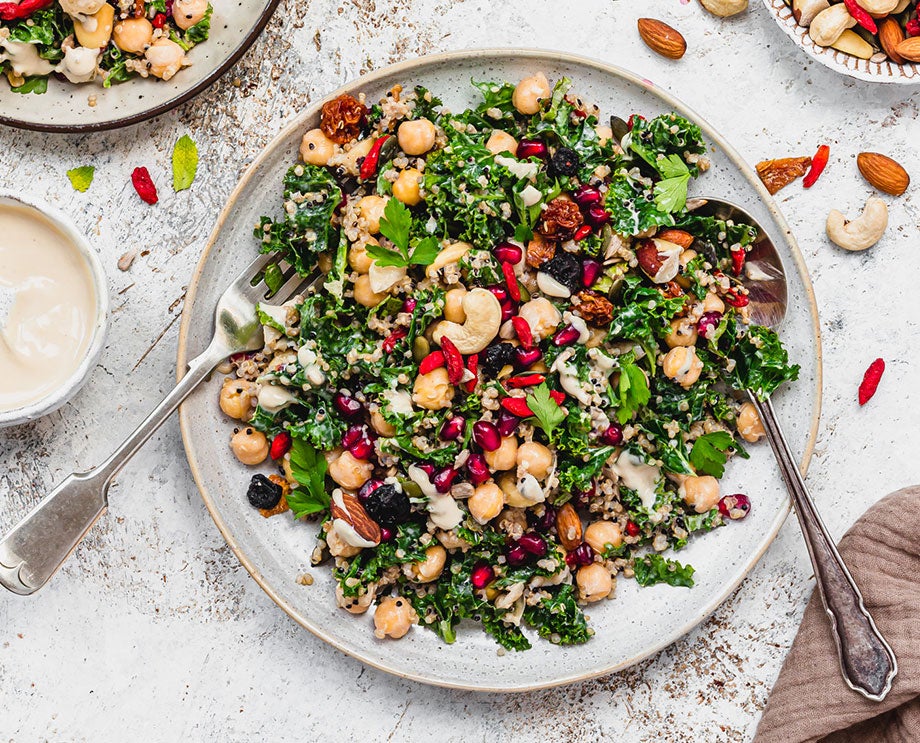 Garlicky Kale Tahini and Almond Salad
Feeds 2 | Preparation time 10 minutes
What to do:
Cook the quinoa according to packet instructions and allow to cool. Drain and rinse the chickpeas.
Add the kale to a mixing bowl with the lemon juice and salt and massage with your hands for 1-2 minutes until soft and wilted. Leave to one side.
Make the dressing by adding all the ingredients to a small bowl and whisk until smooth and pourable.
Roughly chop the herbs and add to the kale with the quinoa, chickpeas, pomegranate and the Blueberry Goji and Almond Immunity Blend. Pour in half of the dressing and toss well.
Divide between two bowls or plates, top with extra pomegranate and extra Blueberry Goji and Almond Immunity Blend and drizzle over the remaining dressing.
Ingredients:
Salad:

60g quinoa
50g kale, de-stemmed and shredded 
1 tbsp lemon juice
1 pinch of salt
1 tin chickpeas (240g drained weight)
2 sprigs fresh parsley or coriander, leaves only
2 sprigs fresh mint, leaves only
40g pomegranate, plus extra
70g Blueberry Goji and Almond Immunity Blend, plus extra for serving

Dressing:

60g runny tahini
1 small garlic clove, crushed
1-cm piece ginger, peeled and grated
1 tbsp lemon juice
1 tsp coconut sugar
3 tbsp water
Salt and pepper