Discover how simple it is to introduce our superfoods and snacks into your favourite meals.
We've selected some sweet and savoury feel-good recipes that we think you'll love!
Now its your turn to give them a try and share your creations with us. Don't forget to tag us @NaturesHeartUK.
Image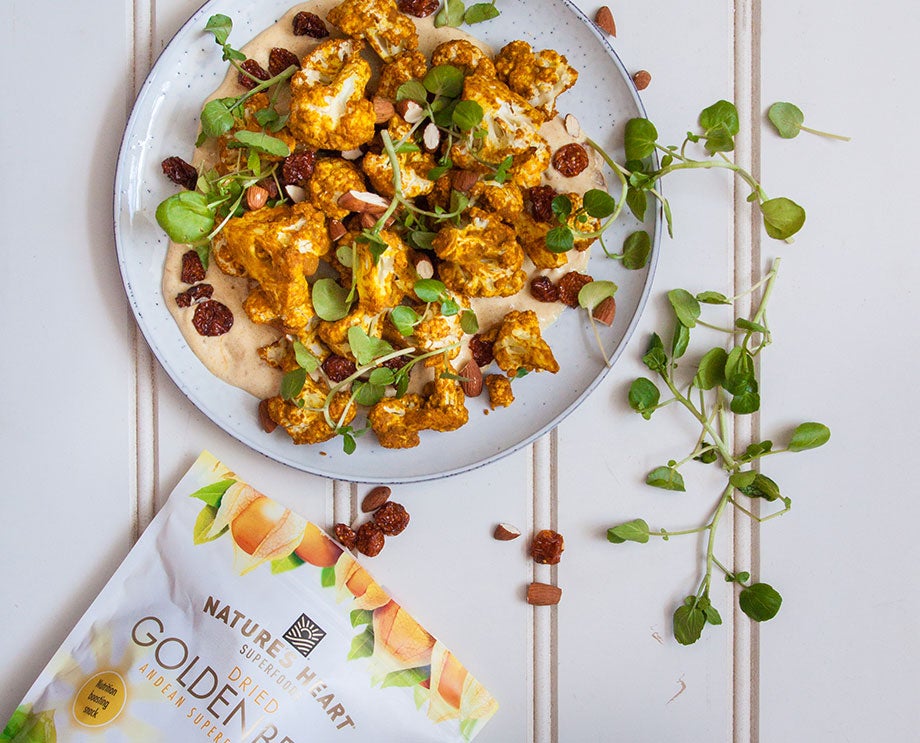 Coronation Cauliflower with Goldenberries
Feeds 4 | Preparation time 50 minutes
What to do:
Preheat the oven to 220C. Toss the cauliflower florets in oil, and add the turmeric, curry powder and salt. Toss to coat well and arrange on a baking tray. Roast for 15-25 minutes, until golden and tender, stirring the tray halfway
Arrange the roasted cauliflower on a dish and toss with the goldenberries and rocket.
In a small bowl, mix together the yogurt, jam, curry powder and salt, you can add a small splash of water to make it more of a dressing consistency. Drizzle over the cauliflower and serve! Alternatively leave it thick and spread as a base for the cauliflower. Garnish with almonds.
This dish is also great cold for a summer picnic.
Ingredients:
Coronation Cauliflower

2 small heads cauliflower or 1 large, cut into bite-sized florets
1 tablespoon vegetable oil
1 tbsp turmeric
2 tsp curry powder
1/2 tsp salt
1/2 cup Nature's Heart goldenberries
1-2 cups rocket
¼ cup crushed almonds

Dressing

1/2 cup vegan yogurt or mayo
1 tbsp apricot jam
Pinch curry power
Pinch salt
Dried goldenberries
Vegan
High in fibre
Source of Iron
Source of Potassium
Source of Vitamin A
gluten free