Image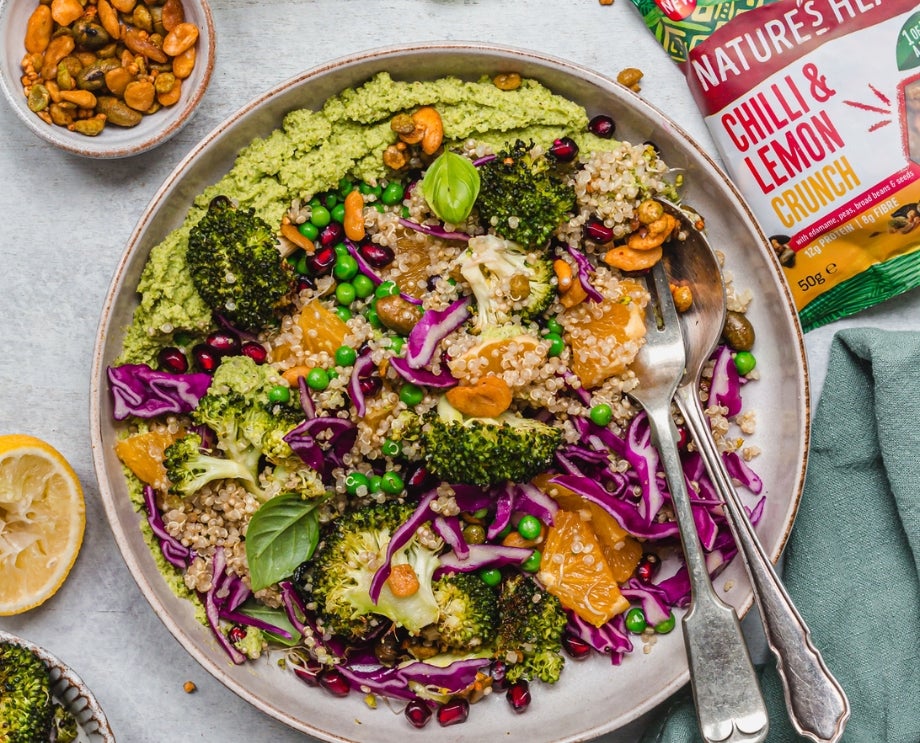 Roasted Broccoli, Pea, and Quinoa Bowl
Feeds 2 | Preparation time 40 minutes
What to do:
1. Preheat the oven to 160 Fan/180ºC and line a large tray with parchment paper.
2. Slice the very end of the broccoli stalk off, only if needed. Chop the stem into small chunks and then chop the rest of the broccoli into bite-sized florets. Add to the tray with the garlic cloves and drizzle with the olive oil, salt and pepper. Toss well then bake for 20-25 minutes, until softening and turning crispy. Allow to cool for 10 minutes.
2. Cook the quinoa according to packet instructions and leave to one side.
3. Add all the stems of the broccoli to a small blender or food processor along with 1/3 of the florets (save the rest for the bowls). To the blender also add the garlic cloves, 100g peas, fresh basil, lemon juice, extra virgin olive oil and sunflower seeds. Start to blend, adding 2-3 tbsp water as needed for a smooth but chunky mix. Season with salt and pepper, to taste.
4. To serve: spread 3 tbsp of the roasted broccoli and pea dip into each of 2-3 bowls (you may have extra) and follow with the quinoa, roasted broccoli, peas, red cabbage, orange slices, fresh basil and pomegranate. Sprinkle over the Chilli and Lemon Crunch and serve as it is or toss together.
5. Alternatively, to enjoy this warm: add the quinoa, broccoli peas, cabbage and the green dip to a frying pan and warm gently, stirring often. Serve warm with the orange slices, pomegranate and Chilli and Lemon Crunch on top. Garnish with fresh basil.
Recipe by @nourishing.amy
Ingredients:
1 head broccoli

3 garlic cloves, peeled

1 tbsp olive oil

2 handfuls fresh basil

100g peas, thawed

2-3 tbsp lemon juice

4 tbsp extra virgin olive oil

50g sunflower seeds

2-3 tbsp water, as needed

salt and pepper

100g quinoa

100g peas, thawed

100g red cabbage, shredded

1 orange, peeled and sliced

fresh basil

2-3 tbsp pomegranate

1 bag Chilli and Lemon Crunch

Optional extras: spinach or rocket, to serve
Chilli & Lemon Crunch
Enjoy all the nutrition of crunchy edamame, peas, broad beans and seeds with an irresistible chilli & lemon flavour.
One portion (50g.) gives you: 
1 of your 5 a day
12g of Protein
8g of Fibre
Vegan
No artificial colours or flavours