Discover how simple it is to introduce our superfoods and snacks into your favourite meals.
We've selected some sweet and savoury feel-good recipes that we think you'll love!
Now its your turn to give them a try and share your creations with us. Don't forget to tag us @NaturesHeartUK.
Image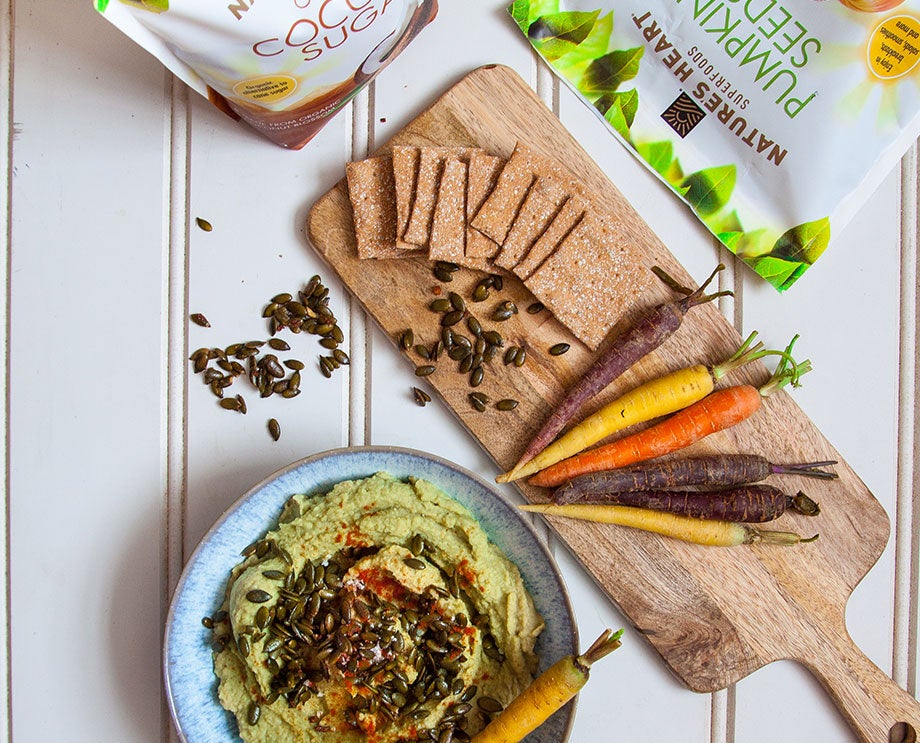 Edamame and Miso Hummus with smoky pepitas
Feeds 1 | Preparation time 30 minutes
What to do:
To make the edamame dip, place the tahini and lemon juice into the food processor and whip until the mixture starts to look lighter and fluffy. Doing this step first helps create a more aerated, silky dip.
Next, add in the beans, garlic, miso and cumin. Process for about 2 minutes, pausing to scrape down the sides and base of the bowl as necessary, until the mixture is well blended.
With the processor on a medium to low speed, process the mixture slowly while drizzling in the oil through the tube on the cover in a nice, even and slow stream.
As you pour the oil in, the mixture should lighten and start to process a lot more easily into a gorgeously smooth paste. Taste to see if it needs any salt or lemon. Season according to your taste. If your dip is too thick for your liking, you may add 1-2 more additional tablespoons of water to thin the consistency of it out.
To make the seed sprinkle, toast the pumpkin seeds on low heat until fragrant, stirring constantly to prevent burning. When ready, toss in the sugar, salt, paprika and water, stir to coat and until the sugar has melted and the water has sizzled off - the second it does, tip it out onto a plate to cool. When set, sprinkle over the dip and serve with crackers or crudites!
Ingredients:
Hummus

½ cup tahini

3 tbsp fresh lemon juice

2 cups shelled edamame beans (380g)

3 garlic cloves

1 tsp white miso paste

½ tsp cumin powder

¼ cup olive oil

Salt, as needed

2-3 tbsp water, as needed

Seeds

1 cup Nature's Heart pumpkin seeds

1 tbsp Nature's Heart coconut sugar

Pinch flaky sea salt

Pinch smoked paprika

Small splash of water