Discover how simple it is to introduce our superfoods and snacks into your favourite meals.
We've selected some sweet and savoury feel-good recipes that we think you'll love!
Now its your turn to give them a try and share your creations with us. Don't forget to tag us @NaturesHeartUK.
Image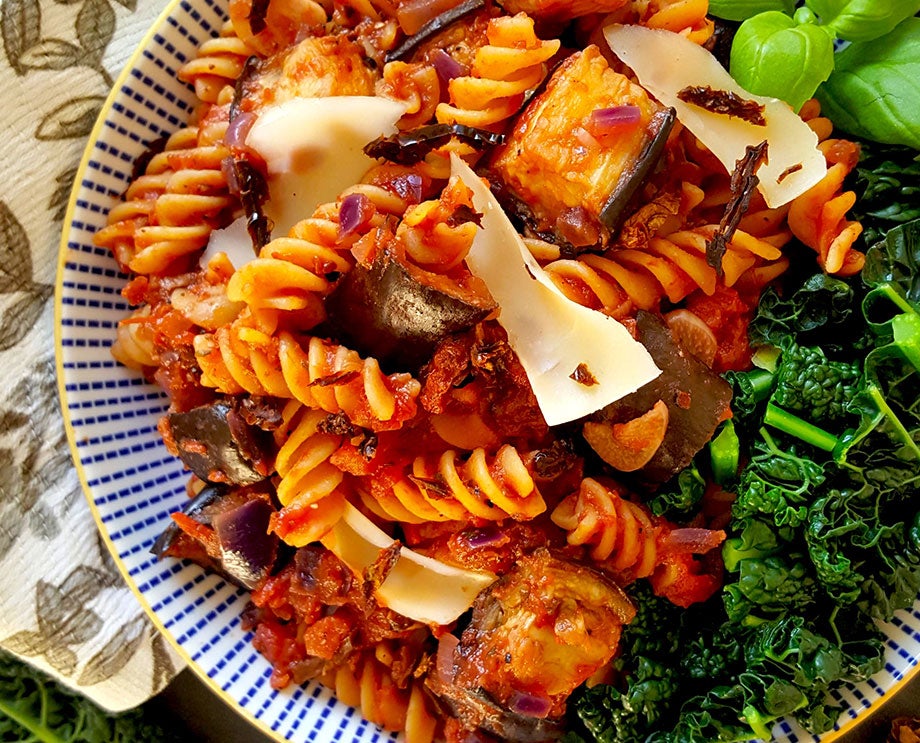 Lentil Pasta with Aubergine
Feeds 4 | Preparation time 15 minutes
What to do:
In a large deep pot and on a medium-high heat, add the olive oil. Once sizzling, add the diced red onion. Cook for a few mins until the onion becomes translucent, then add the garlic and continue cooking for 3 mins.
Add the aubergine chunks and cook for 8-10 mins, until they soften and become golden. 
Add the canned tomatoes, soya sauce/ tamari, capers, vegan Worcestershire sauce, sliced sundried tomatoes, coconut sugar, chilli flakes and oregano and allow to simmer for 15-20 mins, to allow the sauce to reduce on a medium heat.
In the last 10 mins of the sauce reducing, cook the pasta according to manufacturer's instructions. (My lentil pasta only takes 7-9 minutes to cook).
Stir in the tomato puree to the sauce. And cook for a further 3-5 mins. Season with black pepper, to taste.
Drain the pasta and stir in to the rich tomato sauce.
Divide between the bowls and garnish with Parmesan shavings and fresh basil.  My nieces love this dish but without olives (they think they look like teddy bear noses!), but by all means add them if you are an olive lover! Enjoy.
Ingredients:
To serve:

Parmesan shavings (vegan if required)
Fresh basil
Black olives (optional)

1 tbsp. olive oil

1 red onion, diced

3 plump garlic cloves

1 large aubergine, diced into cubes

2 X 400g can chopped tomatoes

2 tbsp. soya sauce/ tamari/ liquid aminos

2.5 tbsp. capers, roughly chopped

1 tbsp. Worcestershire sauce (vegan if required)

4 Sundried tomatoes, finely sliced

1 tsp. coconut sugar

½ tsp. chilli flakes (optional)

1 tsp. dried oregano (optional)

1 tbsp. tomato puree

250g pasta shapes of choice (I used lentil spirals in the photos featured)

Black pepper, to taste
Organic Coconut Sugar
Sourced from the nectar of Indonesian coconut blossoms, these tiny golden granules will hit the spot when it comes to organic sweetness with its rich, toffee-like flavour.
Made from organic coconut blossom
100% natural ingredients - Organic