Discover how simple it is to introduce our superfoods and snacks into your favourite meals.
We've selected some sweet and savoury feel-good recipes that we think you'll love!
Now its your turn to give them a try and share your creations with us. Don't forget to tag us @NaturesHeartUK.
Image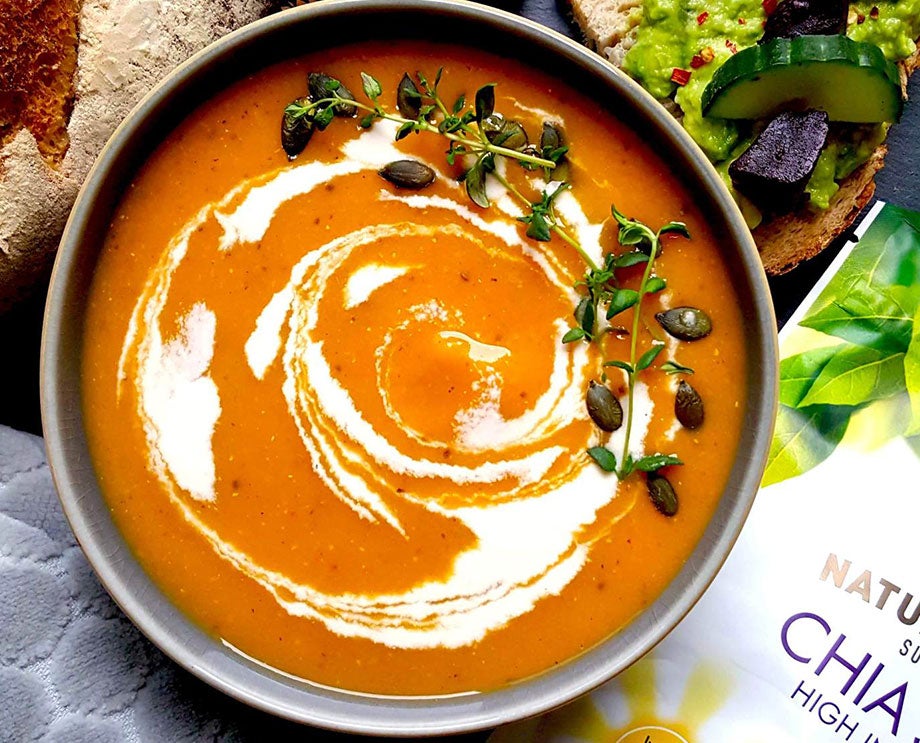 Spiced Pumpkin Chia Soup
Feeds 2 | Preparation time 25-30 minutes
What to do:
Add ½ tsp. coconut oil or rapeseed oil in a deep non-stick pot, or 2-3 tbsp. water if dry-frying and gently sauté the chopped onion and garlic on a medium heat for 3 mins until soft.
Add the curry powder and chopped ginger and continue cooking for a further minute.
Add the chopped pumpkin, carrots, apple or coconut sugar, vegetable stock and thyme leaves. Bring to the boil and then simmer for 15-20 mins until the veggies are soft. If using protein powder, add it now.
Using a blender or food processor, blend until smooth.
Stir in the coconut or oat milk and chia seeds and season to taste.
Pour into bowls and serve with some thyme sprigs, toasted pumpkin seeds, a dusting of ground flaxseed and a swirl of coconut cream.
Ingredients:
1 clove of garlic, crushed

1 small white onion, chopped

2 tsp. curry powder

1 tsp. fresh root ginger, coarsely chopped

700g pumpkin, peeled and chopped into 2cm chunks (pre-roasted if desired)

2 large carrots, peeled and sliced thickly

1 apple (I use Braeburn chopped coarsely) or 1 tsp. coconut sugar

5L vegetable stock

1 tsp. fresh thyme leaves

Optional: 3 tbsp. protein powder (pea or soya bean work well)

50ml coconut milk or oat milk

2 tbsp. chia seeds

Salt and pepper