Image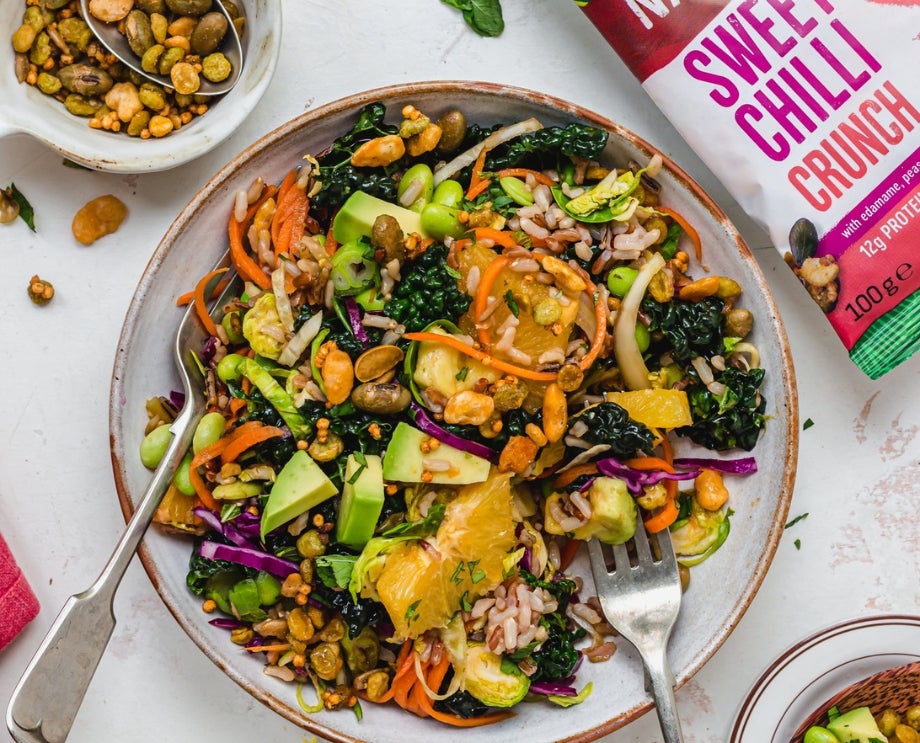 Sweet Chilli Sprout Cabbage Slaw
Feeds 4 | Preparation time 25 minutes
What to do:
To prepare: cook the rice, thaw the edamame beans and chop all the vegetables.

For the dressing: stir together all the ingredients.

Add the kale to a large bowl and add 2 tbsp of the dressing and a pinch of salt. Massage with your hands for 30 seconds, to remove the bitterness and soften the leaves.

Now stir in all of the other salad ingredients (apart from the Crunch), pour over the rest of the dressing and toss well.

To serve: divide between 3-4 bowls and top with the Sweet Chilli Crunch and enjoy.

To store: keep the salad for 2-3 days in a sealed container in the fridge. You can add a squeeze of lime juice just before serving to freshen it up.
Recipe by @nourishing.amy
Ingredients:
100g wild rice (or quinoa)

100g edamame beans, thawed if frozen

40g white cabbage, shredded

40g red cabbage, shredded

1 medium carrot, peeled and julienned 

60g Brussel sprouts (trimmed weight), shredded

80g dinosaur kale (de-stemmed weight), chopped

2 oranges, peeled and sliced

1 avocado, peeled and cubed

2 tbsp fresh chopped mint/coriander

salt

60g Sweet Chilli Crunch

2 tbsp lime juice (approx. 1 lime)

2 tbsp rice mirin or vinegar

2 tbsp tamari soy sauce

1 tbsp sesame oil

1 tbsp maple syrup 

1 tsp sriracha hot sauce

1 large spring onion, sliced
Sweet Chilli Crunch
Enjoy all the nutrition of crunchy edamame, peas, broad beans and seeds with an irresistible sweet chilli flavour.
One portion (50g.) gives you: 
1 of your 5 a day
12g of Protein
9g of Fibre
Vegan
No artificial colours or flavours