Discover how simple it is to introduce our superfoods and snacks into your favourite meals.
We've selected some sweet and savoury feel-good recipes that we think you'll love!
Now its your turn to give them a try and share your creations with us. Don't forget to tag us @NaturesHeartUK.
Image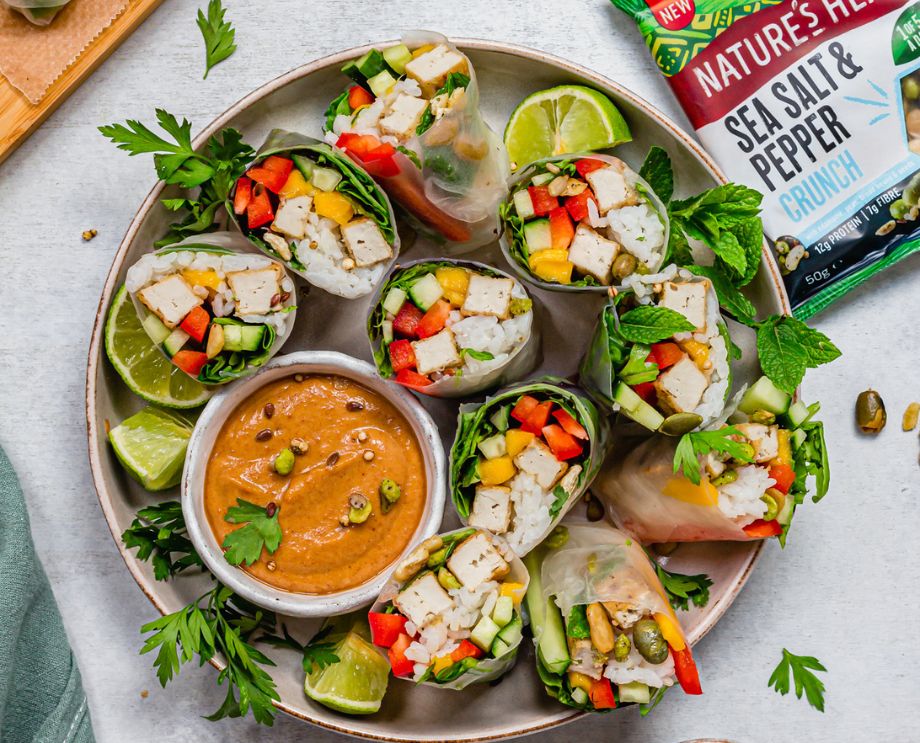 Salt and Pepper Tofu Summer Rolls
Feeds 2 | Preparation time 30 minutes
What to do:
1. Prepare the tofu: slice the block in half and in half again widthways and then slice into 16 strips. Stir the cornflour with 1 big pinch of salt and ½ tsp black pepper. Work in batches to toss the tofu in the cornflour mix.
2. Heat a non-stick pan with some oil and add the tofu strips (working in batches as needed to fit in the pan) and fry off on all sides till golden brown.
3. Cook the rice according to packet instructions and cool down in the fridge.
4. For the rolls: chop all the vegetables and the mango into thin strips, about the same length as the tofu.
5. Have a shallow bowl or plate with an edge filled with lukewarm water. Dip one rice paper sheet into the water and allow to soften for 30 seconds. Allow the water to drip off and lift onto a plate or chopping board. Into the centre of the roll, place some salad leaves and top with some cucumber, pepper, mango, 2 tbsp of the cold rice, two strips of tofu, some fresh herbs and a sprinkling of salt and pepper crunch.
6. Start from the bottom and carefully lift the rice paper over the filling, to cover it completely, now tuck in the sides as you roll forward, like you'd roll a burrito. Continue to seal in the top edge and place on a parchment lined plate. Repeat to make all 8 and chill in the fridge for 10 minutes.
7. Make the satay sauce by stirring all the ingredients together till creamy.
8. With a sharp knife, slice the rolls in half and serve alongside the satay sauce with some extra crunch on top, fresh herbs and lime wedges. Enjoy straight away or keep for 1-2 days in the fridge in a sealed container.
Recipe by: @nourishing.amy
 
Ingredients:
For the Tofu

200g extra-firm tofu

1 tbsp cornflour

Salt and pepper

Oil, for frying

For the Rolls:

100g sushi rice

8 rice papers

100g cucumber

1 red pepper

1/2 mango

fresh mint, parsley or coriander

salad leaves

1 pack Salt and Pepper Crunch

For the Satay:

60g coconut yoghurt

60g smooth peanut butter

1 tbsp tamari soy sauce

1 tbsp maple syrup

1 garlic clove, crushed

1 lime, juiced
Sea Salt & Pepper Crunch
Enjoy all the nutrition of crunchy edamame, peas, broad beans and seeds with a touch of sea salt and cracked black pepper.
One portion (50g.) gives you: 
1 of your 5 a day
12g of Protein
7g of Fibre
Vegan
No artificial colours or flavours