Discover how simple it is to introduce our superfoods and snacks into your favourite meals.
We've selected some sweet and savoury feel-good recipes that we think you'll love!
Now its your turn to give them a try and share your creations with us. Don't forget to tag us @NaturesHeartUK.
Image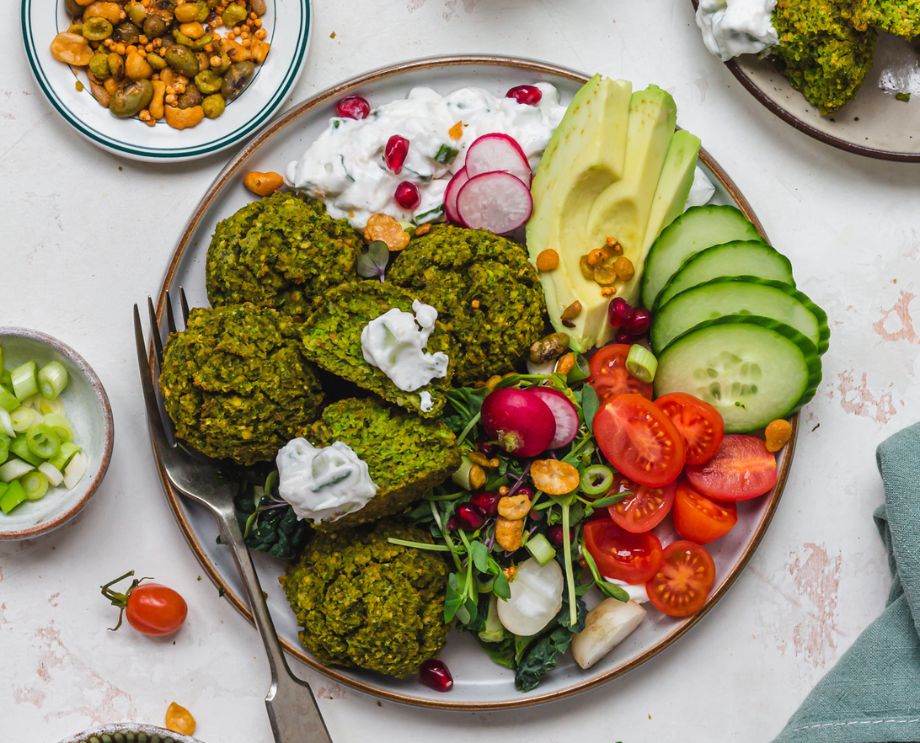 Green Pea Butterbean Falafel Bowls
Feeds 2 | Preparation time 35 minutes
What to do:
1. Preheat the oven to 160Fan/180ºC and line a large baking tray with parchment paper.
2. For the crunch: blitz 80g of the crunch into a fine texture, some small chunks are ok. Leave the remaining 20g for on top of the bowls.
3. For the falafel: add the crumbled Crunch to a food processor with all of the other falafel ingredients. Pulse to a chunky yet smooth mix. Use an ice cream scoop to divide into 10 balls and place onto the tray. Spray or brush lightly with olive oil.
4. To bake: place in the oven for 10 minutes, turn the tray and bake for a further 8-10 minutes, until crispy outside and tender inside.
5. Meanwhile, prepare the yoghurt: stir together the ingredients and season with salt and pepper.
6. To eat: spread the yoghurt onto two plates and top with 5 falafels each. Pile the plate high with kale/spinach, tomatoes, cucumber, avocado, radish or carrot and pomegranate. Sprinkle over the extra Crunch and enjoy.
7. To store: the falafel will keep well for 2-3 days in a sealed container in the fridge or for 1 month in the freezer. Allow to defrost before eating. You can keep the yoghurt in a sealed jar for 2-3 days.
Recipe by: @nourishing.amy
 
Ingredients:
For the Falafel

2x 50g bags Sweet Chilli Crunch

160g butterbeans (drained weight)

160g peas, thawed

40g spinach

10g fresh herbs (coriander, mint, parsley)

2 garlic cloves, peeled

2 spring onions, white and green parts, chopped

2 tbsp olive oil

50g chickpea flour

1 tbsp tahini

1 tsp ground cumin

1/4 tsp hot smoked paprika

zest of 1/2 lemon

1/2 tsp bicarbonate of soda 

salt and pepper

For the Yoghurt Dip

100g thick dairy-free yoghurt

80g cucumber, chopped very small

1/2 lemon, juiced

For the Bowls:

40g kale/spinach

160g cherry tomatoes, chopped into quarters

80g cucumber, sliced

1 avocado, sliced

40g radish (or carrot), sliced

2 tbsp pomegranate
Sweet Chilli Crunch
Enjoy all the nutrition of crunchy edamame, peas, broad beans and seeds with an irresistible sweet chilli flavour.
One portion (50g.) gives you: 
1 of your 5 a day
12g of Protein
9g of Fibre
Vegan
No artificial colours or flavours