Discover how simple it is to introduce our superfoods and snacks into your favourite meals.
We've selected some sweet and savoury feel-good recipes that we think you'll love!
Now its your turn to give them a try and share your creations with us. Don't forget to tag us @NaturesHeartUK.
Image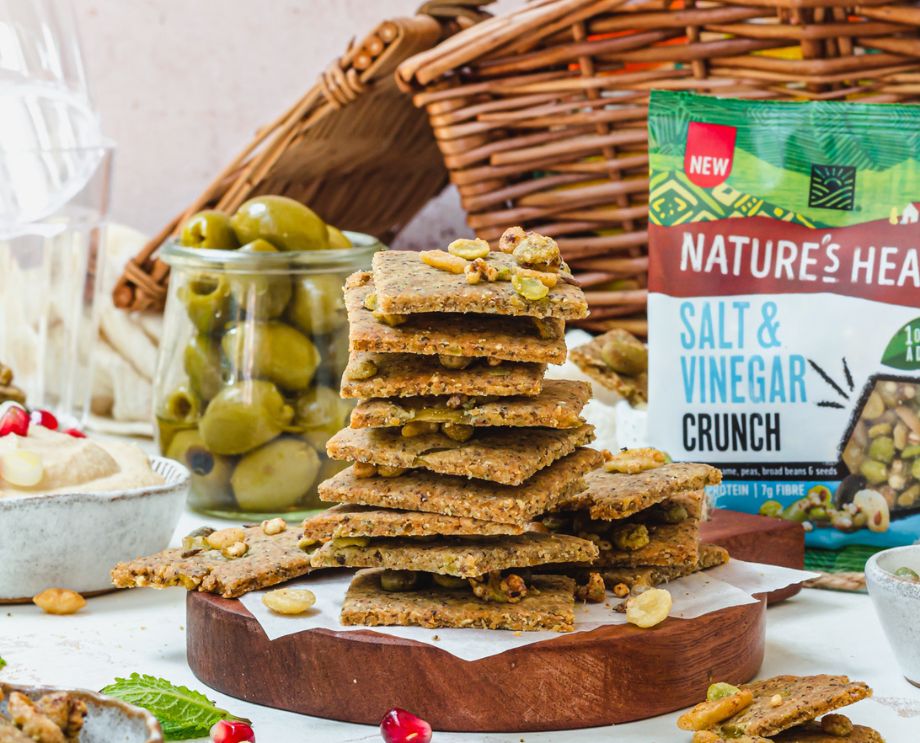 Salt and Vinegar Crunch Olive Crackers
Feeds 32 | Preparation time 30 minutes
What to do:
1. Preheat the oven to 170Fan/190ºC and have two baking trays to hand.
2. To prepare: add 60g of the crunch to a small blender and process to a fine crumb.
3. For the cracker mix: add the crushed up crunch to a mixing bowl with the buckwheat flour, ground almonds, chia seeds, nutritional yeast, dried herbs, garlic, baking powder, olives, salt and pepper. Stir well. Pour in the olive oil and water to stir to a crumbly mix that holds together when pressed together.
4. To roll the crackers: divide the mix into two and place bring each into a ball. Press down onto a piece of parchment paper and cover with a second piece of parchment. Roll out to about 1/2-cm thickness and press in any crumbs at the sides. Repeat with the second half of mix onto a second piece of parchment.
5. To shape: use a sharp knife to score into squares. Sprinkle over the remaining crunch snacks and press in lightly.
6. To bake: transfer both parchment pieces to baking trays and place in the oven. Bake for 10 minutes, then switch the trays around and bake for 5 more minutes. Remove from the oven and carefully pull apart the crackers and move them around so they bake evenly (the edges cook more quickly). Bake for 5 more minutes, until evenly golden.
7. Remove from the oven and allow to cool fully on a wire rack – they crisp up as they cool.
8. Enjoy once cool or store in a sealed container for 2-3 days.
Recipe by: @nourishing.amy
 
Ingredients:
100g Salt & Vinegar Crunch, divided

100g buckwheat flour

25g ground almonds

2 tbsp ground chia seeds

1 tbsp nutritional yeast

1/4 tsp mixed dried herbs

1/4 tsp garlic granules

1/2 tsp baking powder

30g olives, sliced

salt and pepper

4 tbsp olive oil

4 tbsp water
Salt & Vinegar Crunch
Enjoy all the nutrition of crunchy edamame, peas, broad beans and seeds with an irresistible salt & vinegar flavour.
One portion (50g.) gives you: 
1 of your 5 a day
12g of Protein
7g of Fibre
Vegan
No artificial colours or flavours